A Is For Adorable, And Aardvark! Baby At A Chicago Zoo Is Ready For Its Close Up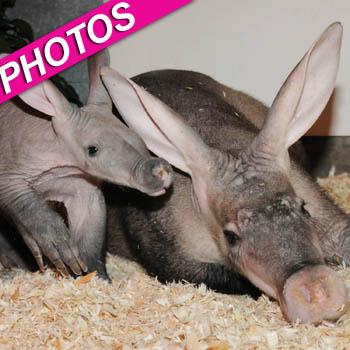 By Debbie Emery - Radar Reporter
A newborn baby aardvark is set to win over visitors at a Chicago zoo before it even shows its snout-nosed face in public thanks to the wonders of video, and RadarOnline.com has a sneak peak of its playful antics.
The as yet unsexed calf already has its own reality show at just six weeks old due to a live video monitor feed that will soon be shared with visitors at the Brookfield Zoo, where it was born to loving parents Hoover, 17, and Jessi, 7, on January 12.
Article continues below advertisement
Described on the zoo's website as having "ears like a donkey, a snout like a pig, and a tongue like an anteater, and she is covered with stiff hairs," the baby already weighs 15 pounds.
Aardvarks are extremely fragile at birth, so veterinarians kept a close watch on the bald baby during the first few weeks of its life, feeding it a special supplemental aardvark formula that replicates the fat, carbohydrates, and other nutrients of a mother aardvark's milk composition.
Aardvarks normally feed at night, using their sense of smell to locate food after dark, and the nocturnal lifestyle allows mom Jessi to sleep during the day while zookeepers and staff with the Chicago Zoological Society feed her baby mock milk.
In their natural environment in Africa, south of the Sahara Desert, the creatures, whose name means "earth pig," spend most of their time foraging in the ground for ants and termites, and while zookeepers admit that the creature's appearance is certainly unusual, "it works well for the aardvark lifestyle."
Article continues below advertisement
"The aardvarks take their scent hunting very seriously. They put their nose to the ground and sniff along in a zigzag pattern. I've even seen them bump right into things, because they didn't look up to see what was in front of them," said keeper Mary Schollhamer.
Instead of having termite mounds to burrow their stubby legs in the baby aardvark at the zoo has boxes, bags, and the occasional sand pile to practice on.
The newest addition is the ninth aardvark to be born at Brookfield since 1992, the last one was in 2002.
Currently, there are 28 aardvarks in 12 accredited North American zoos. Brookfield Zoo is home to four aardvarks, including Bernaard, 28, who is one of the oldest living aardvarks in the population.
Watch video of the adorable aardvark below:
radar_embed service=5min.com src=" http://pshared.5min.com/Scripts/PlayerSeed.js?sid=1126&width=486&height=412&playList=517713544&sequential=1&shuffle=0"