'The Dingo's Got My Baby!' Case Reopened, A Fourth Inquest Is Announced In Australia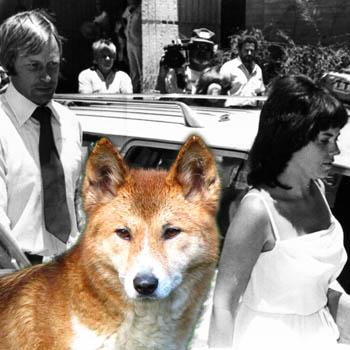 By Debbie Emery - Radar Reporter
A tragedy in the Australian outback 32 years ago involving a missing baby has turned into a hit movie and long-running joke despite the mystery of Azaria Chamberlain's disappearance never being solved.
From the unforgettable scream by Meryl Streep in A Cry In The Dark, to the Seinfeld spoof line, "Maybe the dingo ate your baby!" mother Lindy Chamberlain's legendary cry of "A dingo's got my baby!" has gone down in pop culture history.
Article continues below advertisement
Now the world's focus has returned to the original incident as a coroner in the Northern Territory of Australia prepares to launch a fourth inquest on February 24 to finally answer how nine-week old Azaria really died.
The little girl went missing on the night of August 17, 1980 when her parents were camping at Ulura (also known as Ayers Rock) in the outback with Azaria and her two brothers.
Her parents Lindy and Michael Chamberlain told police that their daughter had been snatched from their tent by a wild dingo while they were cooking dinner nearby, but from the onset their story was met with disbelief from both investigators and the public, amidst speculation that the mother slit the baby's throat and buried her little body in the desert, before "crying dingo."
After a high-profile trial that captured the attention of the nation, Lindy – heavily pregnant at the time - was tried and convicted of murder in 1982 and sentenced to life. Husband Michael was convicted as an accessory and given a suspended sentence.
A chance discovery of a piece of child's clothing after a climber fell to his death in 1986 turned into a crucial piece of evidence when it was identified as Azaria's missing jacket, which had been absent from her other garments and become a crucial aspect of the trial.
Article continues below advertisement
The case was immediately reopened and the NT Court of Criminal Appeals unanimously overturned all convictions against the Chamberlains, and put under scrutiny the use of expert testimony in criminal cases. Two years after they were released, the couple was awarded 1.3 million Australian dollars in compensation for wrongful imprisonment.
The case goes down in Australia's history as one of its most painful chapters, as the nation who prides itself on giving everyone a "fair go" sent a seemingly innocent, pregnant, mourning mother to prison based on shaky evidence and her dislikeable demeanor (the Chamberlain's Seventh-day Adventist religion was deemed weird, and Lindy thought to be too calm in the face of tragedy).
"It's a bit like a really bad war," explained Tony Raymond, chief forensic scientist in an investigation that debunked much of the evidence used to convict Lindy, reported NPR.org. "You've got to learn from it and make sure it doesn't happen again."
The Chamberlains' marriage ended in 1991, but the public's feeling of guilt over the case remains, and was intensified in light of a series of fatal dingo attacks on Australia's Fraser Island 10 years ago, including one that killed a nine-year-old boy and made many realize the danger of the wild dogs.
Article continues below advertisement