Cuteness Overload! Animal Kingdom Odd Couple: Mastiff Adopts Baby Chimp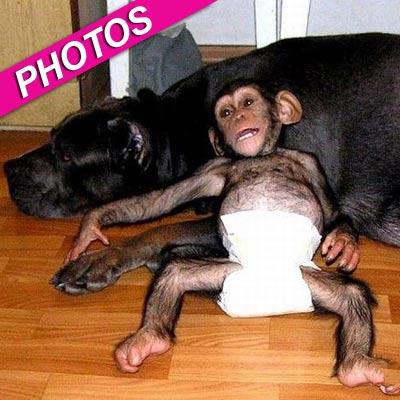 By Debbie Emery - RadarOnline.com Reporter
Be prepared for an absolute cuteness overload... You've been warned!
Anyone who has cried over the Disney classic The Fox And The Hound knows that nature is full of unlikely friendships, and RadarOnline.com has unbelievably cute photos of another oddball couple in the animal kingdom.
After being abandoned by his mother at a Russian zoo two years ago, a baby chimpanzee was adopted by a Mastiff dog and now the pair have become unlikely BFFs.
Article continues below advertisement
A zoo employee never dreamed when she brought him home that the chimp would find a new mom in the form of her gigantic good-tempered pet dog but they soon became inseparable.
Dressed in a diaper with his almost human body and cheeky face, the chimp can be seen snuggling cozily with the black canine, and wrapping his arms around the oversized furry head.
While the affectionate ape gets on well with all the family dogs, including a frisky looking little black puppy, it's the Mastiff who has stolen his heart and a spot in his bed.