Surf's Pup! Abused Three-Legged Labrador Is Now Living The California Dream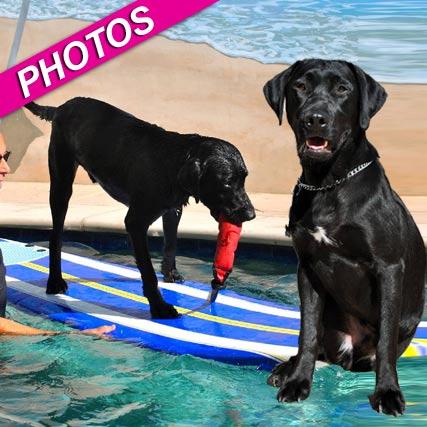 By Debbie Emery - RadarOnline.com Reporter
Losing a leg wasn't going to stop one California resident from fulfilling his dreams of learning to surf, but what makes his story really unique is that the water baby is an abused dog.
Onyx the black Lab was left with just three limbs after his old owner tried to amputate his hind leg following a car accident in a cold-hearted effort to save on vet bills, reported KGET.com.
Article continues below advertisement
The young retriever was found battered and bleeding from his ragged stump last September, while tied to a wooden post.
"It literally looked like it had been chopped off with garden shears," said Dr. Daniel Slaton, an orthopedic specialist at Westlake Village Animal Hospital, in a suburb of Los Angeles.
"I didn't think he was going to make it. I thought he was going to pass before I could even go to surgery. He was just so dehydrated, septic, his body was in shock because of the infection on his leg. I had never seen anything like it."
Not only did Onyx survive his horrific injury, he got a whole new lease on life when Dr. Slaton adopted him and is now living in the lap of luxury at the Barkley Pet Hotel and Day Spa, where he takes surf lessons in his spare time.
"He is such a happy dog now, running and jumping and wagging his tail. He just can't wait to get into the water," revealed Larry Brambles, the Lab's Surf Dog Handler.
Onyx isn't content with simply hitting the waves himself, he is also training to be a therapy dog to help others.
Article continues below advertisement
"We thought he would be a good story for kids who have lost limbs and are handicapped. There is a brighter side and you can actually live and have a good quality of life," explained Slaton.
Alberto Castenada was sentenced to one year in jail for amputating Onyx's leg after taking a plea deal in court, according to KGET.com.
Fans can follow Onyx's adventures on his personal Facebook page.
Watch the pup in action below: