Is It A Bird...Is It A Plane? Labradoodle Survives Death-Defying 100 Foot Fall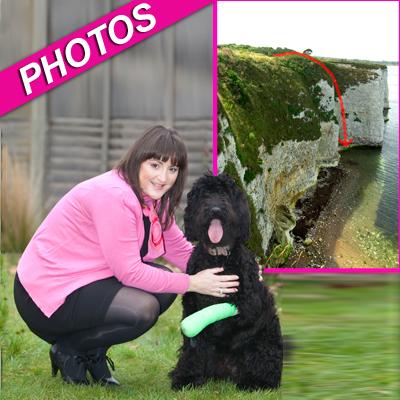 By Debbie Emery - Radar Reporter
They say that cats always land on their feet, but it appears that labradoodles do too.
Bobby, a one-year-old labrador-poodle cross, miraculously survived a 100-foot fall after he chased a seagull straight off the edge of a cliff and landed in the seaweed below.
The rambunctious pooch was walking with his owners, Denise and Kevin Rowell of Poole, England, on Friday when he took the death-defying leap off nearby Old Harry Rocks.
Article continues below advertisement
The couple feared that was the last they'd seen of the floppy black-furred dog when they leaned far over the cliff and spotted him sheltering against the cold cliff face far below.
Rescuers from the Royal National Lifeboat Institution were then called in to help, they lifted him to safety and motored him back to dry land to be reunited with his worried owners.
The dramatic rescue was recorded on a boatman's helmet cam, which shows a bedraggled Bobby being carried carefully into the waiting boat.