Meet Irwin, The World's Cutest & Best Dressed Kangaroo!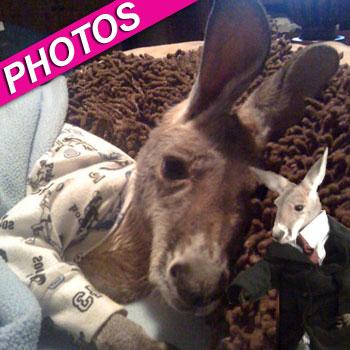 By Debbie Emery - Radar Reporter
Dressed in a tailored suit, complete with its own pockets, Irwin the kangaroo is more fashion-conscious than most people!
The Great Red kangaroo boasts an extensive wardrobe of jackets, tuxedos, ties, t-shirts and even pajamas, thanks to dedicated styling by his owner, Christie Carr, of Oklahoma.
Sadly, color-coordinating his clothes is the least of Irwin's worries, as the little marsupial is partially paralyzed after he broke his neck and suffered brain damage by running into a fence as a young joey.
Article continues below advertisement
Carr took Irwin in after their paths crossed at an animal sanctuary where she was volunteering as part of her own therapy for health issues, reported the Sydney Morning Herald.
Unable to walk on his own, Carr quickly became the full time caretaker for her new best friend, changing his diaper, feeding him salads and popcorn, sleeping in the same bed together and dressing him in carefully modified boy's clothes every time they leave the house.
Despite their idyllic home life, the unlikely couple's future together is in peril as Carr, 39, fears that city officials in the town of Broken Arrow will seize her therapy pet.
"I don't know if I'll ever go back to Broken Arrow," Carr revealed, as she packed up her belongings to move Irwin to her parents' home in nearby McAlester. "I don't know if I can even drive through there and feel safe."
However, a Broken Arrow spokesperson claims that no attempts have been made to take the well-dressed kangaroo and that Carr has not filled out the necessary paperwork that would allow her to keep him.
Article continues below advertisement
According to the Herald, Broken Arrow's city council voted last year to create an exotic animal ordinance exemption to allow Carr to keep Irwin within city limits under certain conditions.
Still paranoid that her pampered pet will be taken from her, Carr is staying put in McAlester, which has no ordinance banning kangaroos.
"I haven't taken this paralyzed kangaroo and taught him to hop again for Broken Arrow to come in and remove him," she said.