Super Cute Monkey Family Finds Comfort From The Cold During Freezing Kashmir Winter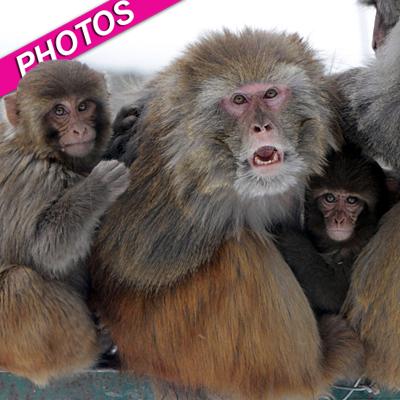 By Debbie Emery - Radar Reporter
As winter tightens its grip, it is a challenge for creatures across the globe to stay warm but a family of monkeys are keeping a tight hold on each other to battle extreme blizzards, and RadarOnline.com has adorable photos of the cuddly clan.
The monkey parents and their two babies hold onto each other tightly to protect themselves from unseasonably cold weather near Kashmir.
Article continues below advertisement
Despite their thick pelt of fur, the monkeys have been facing sub-zero temperatures that freezes life in Tanmarg, which is 21 miles north of Srinagar.
The snowbound valley has recorded the lowest temperature of the season with the mercury dropping to 3.2 degree Fahrenheit and avalanche warnings have been announced.
While the human residents struggle with slick roads and tourists take advantage of the snow by hitting the ski slopes, the monkeys huddle together with their pink faces barely peeping out of their furry winter coats.