That's Monkey Business! World's First 'Chimeric' Primates Are Born From Cells Of Six Different Animals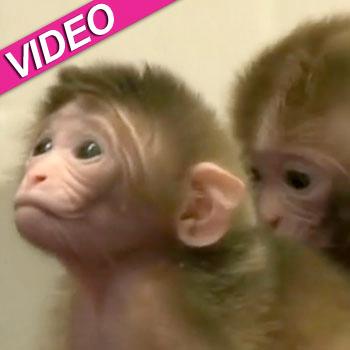 By Debbie Emery - Radar Reporter
Roku and Hex look like any other cute baby monkeys as they roll around together playfully, but the unique pair were actually created by scientists from the genes of up to six different animals.
Boasting the title of the world's first "chimeric monkeys" the primates were genetically engineered from the early-stage stem cells taken directly from monkey four-cell embryos to create 10 chimeric embryos that were then implanted into female monkeys, reported USAToday.com.
Article continues below advertisement
The scientific breakthrough was developed by experts at the Oregon National Primate Research Center, led by stem cell developmental biologist Masahito Tachibana.
Three male babies were born from the experiment, Roku and Hex, who are twins, and Chimero, while dozens more embryos were experimented on and some surrogate pregnancies were aborted.
Mice, rabbits, rats and farm animals have been born this way in past experiments, and researchers have moved on to monkeys because they most closely resemble humans in terms of biological makeup, and they hope it will teach us more about IVF, contraception and growing human organs.