UnBEARable Cuteness Alert: Siku The Baby Polar Bear!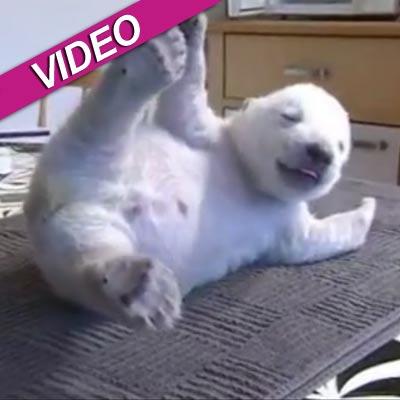 Meet Siku, an orphaned polar bear cub.
This adorable little guy was born last month at the Scandinavian Wildlife Park and taken in by animal officials in Denmark, after its mother could not produce enough milk to sustain him.
Now, RadarOnline.com has video of the too-cute-for-words baby bear, and if you're like us, you're sure to fall in love with this furry little fella. The clip shows Siku writhing around, and if you didn't know any better, you'd think it was a little man in a suit!
Article continues below advertisement
Siku, according to park manager Frank Vigh-Larsen, has gained four pounds (from 3 to 7) in the month since he was born. He's currently being held at a zoo about 105 miles northwest of Copenhagen, Denmark.
Fun fact: Siku is Greenlandic for "Sea Ice."
Watch the video below:
RELATED STORIES:
One Day Old Rare White Lion Cubs Snuggle Up To Lioness At Serbian Zoo