Sick Puppy Sits Up Tall For Dinner In A Special Chair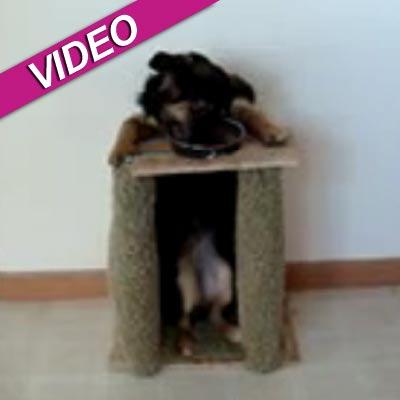 By Debbie Emery - Radar Reporter
"Sit, stay, rollover," takes on a whole new meaning for this well-behaved pooch.
A sick puppy has gotten a new lease on life - and a cool dog trick under her collar - thanks to a custom canine chair, and RadarOnline.com has the touching video of her doggy dinner sessions.
Bella, a seven-month-old German Shepherd, suffers from a rare condition that stops her from being able to eat standing on four legs, but a nifty invention, designed by Donna and Joe Koch, lets her stand up tall on two legs and eat from a table, just like the rest of the family.
Article continues below advertisement
When the dinner bell rings, Bella runs over to her 'Bailey Chair' (named after the Koch's dog, who has the same disease) and sits in the begging position to eat, drink or take her medication. Not only does she look super-cute, but it is also the perfect way to combat the risks from canince megaesophagus, which hinders her ability to swallow due to weak esophageal muscles.
Bella stays in her favorite spot for 10 minutes after she's finished her last bite to make sure she's digested everything properly, and then she's free to scamper around like a regular healthy dog.