Laboratory Tested Beagles Finally See Sunlight After A Lifetime Of Captivity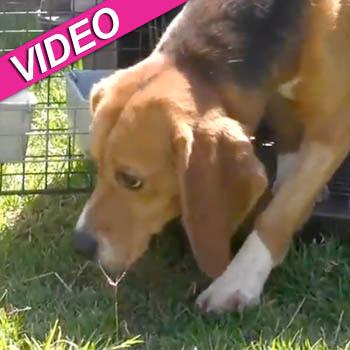 By Debbie Emery - Radar Reporter
A pack of adorable Beagles took their first tentative steps into the sunlight after spending their entire lives locked in cages, and RadarOnline.com has video of their paws hitting the grass for the initial time.
The dogs have been held since puppy-hood in a laboratory in Spain where they were used for testing, the MailOnline reported.
Seventy-two Beagles, who had never been out of their cages before and had no interaction with each other, were part of a rescue mission carried out by members of Animal Rescue Media Education (ARME).
Article continues below advertisement
"They've been in kennels since they were rescued, but aside from that, they've spent most of their lives locked up," revealed Gary Smith, spokesperson for ARME's Beagle Freedom Project.
Forty lucky dogs landed in Los Angeles last week to start a new life in Hollywood, where they will be put up for adoption. The rest have all found new homes in Europe.
Beagles' docile and loving nature makes them perfect pets but unfortunately for the happy hounds, their easy-going temperaments also make them the ideal candidates for lab testing.
"The same reason the Beagle is a perfect companion animal, is the same reason they're used for testing," explained Smith.
As RadarOnline.com exclusively reported, Beagles were unwittingly at the center of an animal rights firestorm recently during the Conrad Murray trial.
We were first to report that Murray's defense team had carried out testing on Beagles, forcing them to consume large amounts of the powerful anesthetic Propofol as part of their defense findings.
Article continues below advertisement
PETA slammed the embattled cardiologist and his attorneys: "Dr. Conrad Murray and his defense team should do time for this act alone. Poisoning and killing dogs will not change what is already known about propofol— its hazards are well documented," they said in a statement.
Potential owners wanting to adopt a laboratory pooch can go to the ARME website for more information.
Watch video of the Beagles below: