Exclusive
Dr. Conrad Murray's Lawyers Ordered Study That Gave Propofol To Beagle Dogs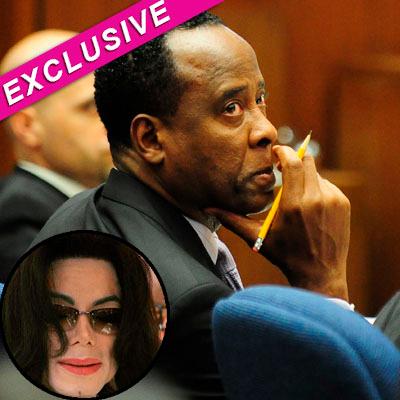 Dr. Conrad Murray's defense team commissioned a study on Beagle dogs to determine how much Propofol would have to be ingested to cause Michael Jackson's death, RadarOnline.com is exclusively reporting.
At Murray's preliminary hearing earlier this year, his lawyers asserted that the King of Pop swallowed Propofol, and this is what caused his death.
However, in a dramatic turnaround, attorney Michael Flanagan told Los Angeles Judge Michael Pastor on Wednesday outside the presence of the jury, that they wouldn't be pursuing the theory that Jackson had ingested Propofol.
Article continues below advertisement
"We are not going to assert at any point in this trial that Michael Jackson at any time orally ingested Propofol," Flanagan revealed. Flanagan said in open court that he had commissioned his own study about the oral ingestion of Propofol, and that findings from the study revealed that taking Propofol orally would not cause death.
"A study was done on Beagle dogs to determine how much Propofol would have to be orally consumed to cause death. The only other study that had been done on the the oral ingestion of Propofol was on pigs rectums. The study definitely involved more than two dogs. It's unknown if the dogs died, or suffered any harm," a source close to Dr. Murray tells RadarOnline.com.
MORE ON:
Celebrity Justice
Dr. Murray's lawyers aren't completely abandoning the Propofol defense however. "Dr. Murray's lawyers will likely put expert witnesses on the stand that will tell jurors Michael Jackson administered a dose of Propofol," a source close to the situation says.
The prosecution is expected to rest its case on Thursday or Friday; then Dr. Murray's defense will formally present their case to the jury.
If convicted of the involuntary manslaughter charge, Dr. Murray could face up to four years in state prison.