Exclusive
PETA Slams Dr. Conrad Murray For Testing Harmful Drug Propofol On Beagle Dogs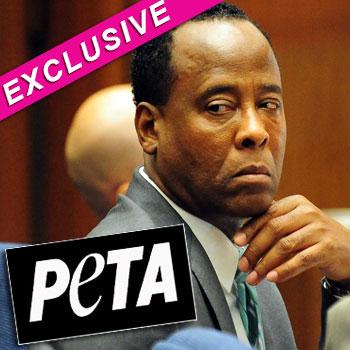 By Alexis Tereszcuk - RadarOnline.com Senior Reporter
Dr. Conrad Murray's defense team has earned another enemy – the animal right's group PETA - for their testing of the powerful anesthetic Propofol on beagles.
PETA, People for the Ethical Treatment of Animals, President Ingrid Newkirk exclusively talked to RadarOnline.com and slammed the doctor, who is accused of killing Michael Jackson.
"Dr. Conrad Murray and his defense team should do time for this act alone. Poisoning and killing dogs will not change what is already known about propofol—its hazards are well documented," she said.
Article continues below advertisement
As RadarOnline.com exclusively reported, as source close to Dr. Murray revealed that Beagle dogs had been used to test the drug as attorneys tried to build their defense of the beleaguered physician.
"A study was done on Beagle dogs to determine how much Propofol would have to be orally consumed to cause death. The only other study that had been done on the oral ingestion of Propofol was on pigs rectums. The study definitely involved more than two dogs. It's unknown if the dogs died, or suffered any harm," the source said.
PETA said this action would have horrified the former King of Pop, who tragically passed away from a propofol overdose in 2009.
"This would have greatly upset Michael, who was known to be a huge animal lover," the organization told RadarOnline.com. "This was obviously a cruel attempt to drag out this trial and confuse the jurors, adding more victims to the death toll in this sad case."
Dr. Conrad Murray is being tried for the involuntary manslaughter death of Michael Jackson in Los Angeles and faces four years in federal prison if convicted.