Conrad Murray Trial Recap: Defense Drop Claim Michael Jackson Killed Himself With Propofol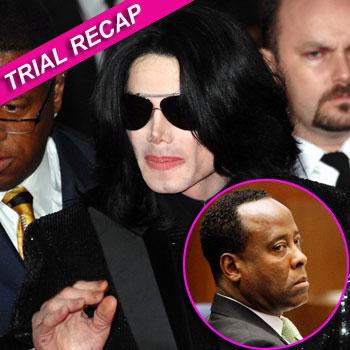 In court Wednesday, Dr. Conrad Murray's legal team dropped the claim that Michael Jackson accidentally killed himself by orally self-administering the powerful anesthetic Propofol.
The medic has denied all charges relating to the involuntary manslaughter of the Thriller hitmaker - for which he is currently on trial - but despite initially claiming that Michael swallowed the fatal dose of the drug which killed him, Dr. Murray's legal team have now accepted this is not possible.
Article continues below advertisement
Lawyer Michael Flanagan explained to the judge and Deputy District Attorney David Walgren that after commissioning a study which showed the effect of swallowing the drug would be "trivial" it was decided that: "We are not going to assert at any time during this trial that Michael Jackson orally administered Propofol."
Meanwhile, prosecution witness and Malibu cardiologist Dr. Alon Steinberg condemned Dr. Murray for leaving Michael Jackson alone in order to go to the bathroom.
He said: "When you monitor a patient, you never leave their side, especially after giving Propofol.
"It's like leaving a baby that's sleeping on your kitchen countertop. You look at it and it's probably going to be ok, and you're just going to put some diapers away or go to the bathroom.
"But you would never do it because there's a very, very small chance that the baby could fall over or wake up, get startled and grab a knife or something."