Loyal Chinese Dog Refuses To Leave Owner's Grave For Seven Days, Even For Food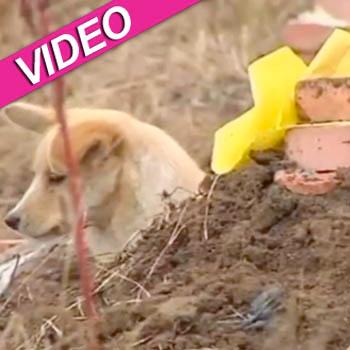 A loyal dog revealed his undying devotion to his dead owner by keeping watch on his grave for a week, even though it meant he could have starved to death himself, RadarOnline.com has learned.
Proving he really is man's best friend, the little yellow mutt spent seven days by the desolate site in the village of Panjiatun, China, before neighbors persuaded him to come for food, reported the BBC.co.uk.
Article continues below advertisement
Lao Pan, 68, died earlier this month and shortly after his death his adorable dog with lopsided ears vanished.
Villagers later found him lying at the grave of his owner, despite desperate attempts by rescuers to persuade him to leave, he refused to budge from his owner's side.
"I called him and wanted to bring him back home because I also have a dog," said one local, who fed him steamed buns.
"The dog caught the bun and ran back, I called him but he ran even faster to the tomb and stayed there."
Now that it's obvious that he is there to stay, villagers are coming to the dedicated pet with food every day and even plan to build a kennel by the rocky grave site to make him more comfortable.
Watch the loyal dog guard the grave below: