Miracle At The Pound! Dog On Death Row Survives The Gas Chamber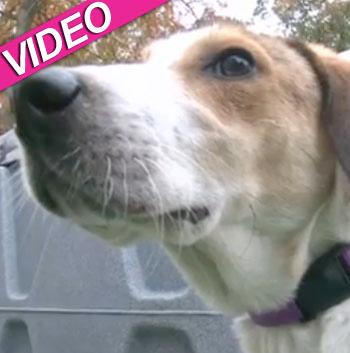 A dog, who was sentenced to death at the pound after he was abandoned, miraculously survived the gas chamber, RadarOnline.com has learned.
Daniel the Beagle was a dead dog walking when he was lead to the gas chamber with 17 other dogs at the Animal Control Department in Florence, Alabama, reported the Huffington Post via the AP.
But somehow the 20-pound hound survived the fatal dose of carbon monoxide that killed his fellow stray pups and walked out again unscathed and even wagging his tail, much to the confusion of shelter staff.
Article continues below advertisement
"It may be that his breathing was shallow because of a cold or something. Or maybe God just had a better plan for this one," Phil Stevenson, a Florence city spokesman, said on Friday.
The lucky pooch was later given his biblical name, Daniel, by volunteers who were reminded of the biblical figure who survived the lions' den.
He had been dumped anonymously in one of the drop box cages at the shelter weeks before, "It was an unwanted dog. ... We didn't have a history on him," said Vinny Grosso, the Florence animal shelter's director.
Up to 30 animals are put to death every month but Stevenson has only ever heard of three others surviving in the past 12 years.
Ready for his second chance at life, the floppy-eared survivor is now in Rockaway, New Jersey after being flown up north to safety and taken in by animal lovers Eleventh Hour Rescue, reported NBC.New York.com.
He is currently staying with volunteer Jill Pavlik until he can be adopted, which shouldn't be long as the facility has already received about 100 applications from people around the country seeking to adopt him.
Article continues below advertisement