Exclusive
Mayor Of Zanesville, Ohio Is Getting Hate Mail Over Exotic Animal Slaughter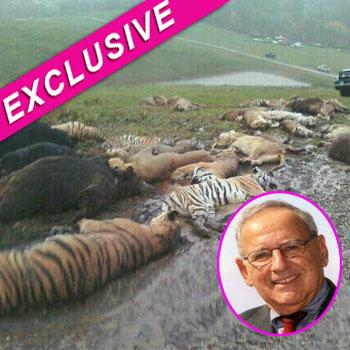 The mass execution of 48 exotic animals on Tuesday evening has caused outcry from animal lovers across the country and now the mayor of Zanesville, Ohio, is getting hate mail wrongly blaming him for the killings, RadarOnline.com has exclusively learned.
"I've had a lot of people calling and complaining, and some really nasty e-mails," Mayor Howard 'Butch' Zwelling told RadarOnline.com in an exclusive interview.
Article continues below advertisement
As RadarOnline.com previously reported, Terry Thompson opened the cages and gates of the 56 exotic animals that he kept on his ranch -- including bears, cheetahs, wolves, lions, camels, giraffes and a white Siberian tiger -- prior to giving himself a fatal, self-inflicted gun shot wound.
An autopsy revealed that within a minute of his death he was bitten on the head by a large cat, most likely a Bengal tiger.
The Muskingum County sheriff deputies went on to shoot 48 of the 56 wild beasts with high-powered rifles in the fear that they would attack local residents, who were ordered to stay in their homes under lock-down, RadarOnline.com reported.
Now Mayor Zwelling is getting a slew of toxic messages blaming him for the slaughter that resulted in shocking images of the corpses of endangered animals lining the side of the road.
Article continues below advertisement
"One man from Walnut Creek, California called a me 'son of a b**ch,' saying, 'You work with and condone the rogue police department,'" he told RadarOnline.com.
However, the decision to shoot the animals was completely out of the mayor's control as Thompson's property is a few miles out of the city's limits and therefore under the jurisdiction of Muskingum County.
"No city police made a shot, it was all the Sheriff deputies as he is the official of the county," he explained. "No animal was spotted in the city limits, if there was one I'd have been alerted."
Another nasty message reads: "Zanesville, Ohio is now a national disgrace. Your decision to slaughter those 48 animals who should never have been there in the first place is deplorable. Burn in Hell, Zanesville."
The angry Colorado resident is so vehement about his hatred for the town that he'd probably never heard of before this week, that he made t-shirts proclaiming, 'Zanesville, Ohio, SUCKS,' promising to the mayor that they are "a taste of Zanesville's legacy."
Article continues below advertisement
As an animal lover, Zwelling said he is devastated about what happened but he can't say that Sheriff Matt Lutz made the wrong decision by pulling the trigger, without being there himself.
"I don't know what the criteria was that he had in front of him at the time," he explained. "I don't know what I would have done if I'd been out in the field.
"Maybe I would have done the same, maybe not. I wasn't there so I don't know how dangerous the animals were," he said, adding, "I haven't been privy to any of the decision-making in this."
Zwelling went on to explain that although animal expert and conservationist Jack Hanna was on the scene, none of the animals who were set free by Thompson were tranqulized.
"What I gathered is if you tranquilize a tiger with a dart it takes 45 minutes to come down, by that time it could have killed 3 people," he said.
Fortunately thick-skinned Zwelling doesn't take any of the angry rants arriving in his inbox personally, as a former trial lawyer and judge, he's gotten a lot worse! "I had nine murder cases, people tend to get upset during them."
Article continues below advertisement
Zwelling had known the man at the center of the drama for many years, both in and out of the courtroom and he remembers him fondly.
"He was an eccentric person but he had a lot of friends. It is a crying shame what happened, a terrible tragedy," said the former judge.
In April 2010, Thompson, 62, pleaded guilty to possessing eight illegal firearms, including five fully automatics and three short-barreled guns without serial numbers.
"He must have gotten back from prison a couple of weeks ago and not had the money to feed his animals, he had marital problems and instead of starving them he loved them so much so set them loose and killed himself," speculated Zwelling.
"At one point he was the biggest Harley Davidson dealer in this neighborhood. He sold a few franchises and he had a ton of money."
Sadly, Thompson's finances dwindled away to nothing and he owed over $55,000 to the IRS and couldn't afford the astronomical costs of feeding his homemade zoo.
Article continues below advertisement
The former motorcycle dealer left behind his estranged wife, Marian, who it is thought recently moved out of the sprawling property.
"Marian raised some of these from pups and from babies. I heard she had moved out but she came back when she heard all this has happened," said Zwelling.
She was back there yesterday crying hysterically as the six remaining animals were taken to the Columbus zoo.
"I held her and she just shook. She begged me not to take away her family. It's all she has," said Hanna, according to the Zanesville Times Recorder.
"She truly loves those animals and this is devastating for her. She just lost her husband, and now she's lost the only family she has. It's tragic."
The surviving animals were in the house when the shooting rampage took place so they avoided the sheriff's bullets and are now recovering from their ordeal, reported local news 10TV.
The bodies of all the animals have been buried despite one opportunistic thief attempting to steal a lion carcass. He has since been arrested and charged with theft.