Exclusive
Shocking Images Of The Mass Slaughter Of Released Exotic Animals In Ohio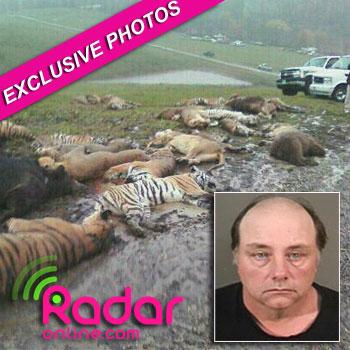 The exotic animals who were released by their owner on Tuesday evening before he killed himself have been shot in a shocking massacre and RadarOnline.com has exclusive photos of the slaughter.
Bodies of the the endangered species including tigers, bears and wolves can be seen lining the side of the road near the ranch in Zanesville, Ohio, where owner Terry Thompson set them free.
The mass killing was reportedly carried out by Sheriff deputies who were called in after being alerted that a bear and a lion were roaming free.
Article continues below advertisement
As RadarOnline.com previously reported, the mayor of the town, Howard Zwelling confirmed that many of the 50 plus animals had been killed.
"A lot of them have been shot but I don't know how many. There were a lot of animals deaths," he exclusively told RadarOnline.com.
Some of the animals were tranquilized and taken to wildlife centers and the Columbus Zoo.
Thompson had opened the cages and gates of his animals -- including bears, cheetahs, wolves, lions, camels, giraffes and a white Siberian tiger -- prior to giving himself a fatal, self-inflicted gun shot wound, police allege.
As RadarOnline.com previously reported, a neighbor of the 62-year-old said that he kept many of the potentially dangerous animals like pets and had raised some of the cubs since birth.
Terry would bring their exotic creatures to children's birthday parties, while his school teacher wife, Marian, is thought to have taken them to school to show her students.
In light of the heart-breaking incident, PETA has spoken out against owners who treat exotic wildlife as pets and the states that allow it.
Article continues below advertisement
"Keeping exotic animals is inhumane and unsafe for both animals and people, and it's high time that Ohio did something about it," Delcianna Winders, Director of Captive Animal Law Enforcement for PETA (People for the Ethical Treatment of Animals organization) exclusively told RadarOnline.com.
Winders went on to explain that there are many more ranches housing wild animals across America and that this is not an isolated incidence.
"Thompson is just one example of many. Exotic animals across the state of Ohio languish without food, water, or veterinary care," explained the PETA spokesperson.
"The shooting of dozens of exotic animals is a tragic example of just how wrong things can go when people are allowed to keep wild animals," said Winders.
"This should be a wake-up call to America to act immediately to prevent future catastrophes across the nation by banning exotic-animal ownership.
Article continues below advertisement
"Ohio's governor failed the animals and the citizens of Ohio when, earlier this year, he refused to extend an emergency ban on exotic animals in the state that had been put in place by his predecessor."
With both prior charges of animal abuse and a criminal record for the possession of illegal firearms, "Thompson never should have been allowed to have the animals in the first place," said Winders.
"It's virtually impossible for private citizens to care for wild animals adequately in captivity.
"Most of these animals are confined to backyards, basements, or garages and lead barren, boring lives that are devoid of anything that they would experience naturally in the wild."
PETA is calling on the Ohio Department of Natural Resources to exercise its authority to implement emergency regulations prohibiting the keeping of exotic animals.
"Surely, after this latest incident, enough blood has been shed for the state to take action," concluded Winders.