Exclusive
Owner Of Released Wild Animals 'Was An Unusual Fella' Says The Mayor Of Zanesville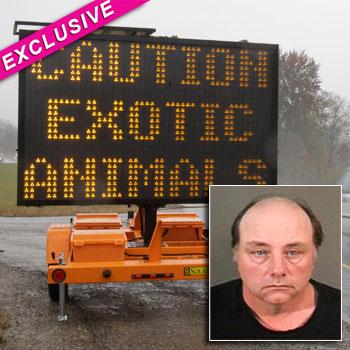 The owner of the 48 wild animals, who reportedly released them from their cages and menageries before killing himself, was well-known by many in the town, and RadarOnline.com has new insight into Terry Thompson, the man behind the great escape.
"He was an unusual fella," Zanesville, Ohio Mayor Howard 'Butch' Zwelling told RadarOnline.com in an exclusive interview. "I thought he had a few exotic animals but I was astonished to find out he had 48.
Article continues below advertisement
"I never considered him a menace, but if I'd known that he had that many then I might have thought he was," Zwelling revealed to RadarOnline.com.
As RadarOnline.com previously reported, Thompson opened the cages and gates of the animals -- including bears, cheetahs, wolves, lions, camels, giraffes and a white Siberian tiger -- prior to giving himself a fatal, self-inflicted wound, police allege, adding they were waiting on the autopsy result.
"He was always very friendly, the last time I saw him was in a local restaurant about 1 1/2 years ago when he was with his wife."
Thompson is thought to be separated from his wife, Marian, a middle school teacher who used to bring monkeys, snakes and owls into school for the children.
Kim Hambel, spokesperson for the Muskingum County Sheriff's office, told RadarOnline.com that officers had been called out to the Thompson's property numerous times.
Article continues below advertisement
"Since 2005, we've been out there 16 times for reports of animals at large, 8 times for animal complaints and three times for animal cruelty," he explained.
Despite all the complaints, Zwelling still believes Thompson cared for them.
"I think he was good to the animals, but I don't know how in the world he could afford to feed that many."
The mayor went on to say that although many people are calling it a wild preserve, "it wasn't that, because the public was never invited to come and pay a price and visit it," Zwelling explained.
Despite the potentially dangerous amount of wild and unpredictable animals that Thompson had on the ranch, the mayor thinks that they were all legal.
"He had permits for all of them and that is why many think that the state of Ohio needs to make it harder to get permits because this is what can happen," he warned.
All but three of the escapees - a lion, a monkey and a bear - have been captured.
"A lot of them have been shot but I don't know how many. There were a lot of animals deaths," Zwelling revealed to RadarOnline.com, others were lucky enough to be tranquilized and transported to wildlife centers and the Columbus Zoo.
Article continues below advertisement
"Animal expert Jack Hannah has been here since the early hours of the morning to tranquilize them," said the mayor, known to locals as Butch.
While local people have been warned to stay in their homes and the nearby schools are closed, the mayor said that many of them are more worried about the animals' welfare than their own safety.
"Most of the calls I have gotten are about how they don't want the animals killed," he explained. "There has been no sightings in the city limits of Zanesville, it's business as usual here and everyone has come to work."
As a former judge in Zanesville, which is has a population of 25,000 and is 55 miles from Columbus, Ohio, Zwelling said he had Thompson in his courtroom on a number of occasions.
"When I was a judge I used to have him. He had just got out of prison for a federal charge of illegal firearms, he served about a year," he explained.
In April 2010, Thompson, 62, pleaded guilty to possessing eight illegal firearms, including five fully automatics and three short-barreled guns without serial numbers.
Article continues below advertisement
According to court documents, ATF agents seized the illegal weapons while executing a search warrant of Thompson's property in June, 2008.
Back in 2005, he was charged with one count of having an animal at large, two counts of rendering animal waste and one count of cruelty to animals after he was arrested for the cruelty and torture of cattle and bison he had on his property. He was sentenced to six months house arrest and fined $2,870.