Road Block! Wrestling Bear Cubs Stop Traffic In Yosemite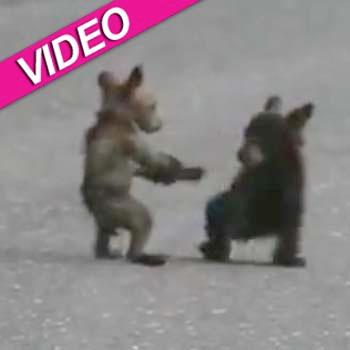 "The first rule of Bear Fight Club is: you do not talk about Bear Fight Club. The second rule of Bear Fight Club is: you DO NOT talk about Bear Fight Club!"
Instead of getting impatient, delighted tourists were happy to get stuck in a traffic jam in the middle of the road and wait for a rambunctious pair of bear cubs to finish their wrestling match in Yosemite National Park, and RadarOnline.com has video footage of the furry fight -- Be warned though, some may find it TCFW (too cute for work).
Article continues below advertisement
Despite being filmed in July, the video has just gone viral and the bear fight is getting more attention on YouTube than a WWE match.
The lucky visitors to the great outdoors were on their way back from a hike in the Hetch Hetchy area of the park when they came across the youngsters tousling in the road.
Totally smitten by the sight, one of the men in the car can be heard saying: "I want one, they're like puppy-sized," before begging, "Oh please come to my car."
With over-sized ears and giant paws, but skinny, young bodies, the baby bears look like old men in tiny fur coats as they do somersaults over each other. The bigger cub finally got his younger sibling pinned to the ground, and when the little guy taps out they both give up the battle and run off the road.
Momma Bear was waiting patiently in the nearby grass and finally got bored of their horseplay and wandered off as her little ones frolicked after her and then scampered up a tree.