Bear Breaks Into Prius -- And Takes It For A Joy Ride!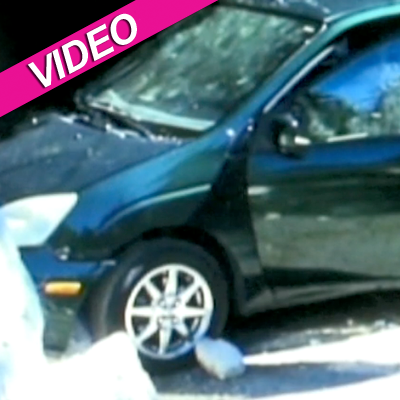 An eco-friendly bear attempted to take a joy ride in a Toyota Prius, but his fast getaway was cut short.
A shocked family vacationing in a Lake Tahoe cabin watched in amazement last Wednesday as a black bear broke into their car and got completely stuck, then the trapped animal somehow hit the gear shift and careened down the road!
The McCarthy family woke up to bumps in the night only to find the bear bashing around in the black Prius.
Article continues below advertisement
Kate Gosselin Calls Camping With Sarah Palin 'Cruel & Unusual Punishment'
"All of a sudden we look out the window again and the car is gone, the bear is down the driveway – we have this steep driveway coming out of our cabin -- he's down the driveway across the street," said Cece McCarthy, reported CBS Sacramento.
Unable to steer, the unlicensed driver had knocked the car into neutral, rolled down the McCarthy's steep drive way over several boulders and then smashed into a neighbor's porch down the road.
The bear battled for 30 minutes with the small hatchback struggling to get out, as he kicked, scratched and tore at the interior of the hybrid, biting chunks out of the steering wheel and damaging the gear box.
Despite not making off with the car, the vandal totaled it in his aggressive attempts to escape.
Man Stuffs $4000 Worth Of Snakes Down His Pants!
"It's just wreckage," said the family's son, Dylan, when looking at the trashed vehicle. "It's the metal shell of what once was our car.
"In the chaos of him thrashing around in the car, he pulled back the gear shift."
By the time the Sheriff arrived the car thief had left the scene and the incident was marked as a 'bear burglary.'