VIDEO: Kate Gosselin Calls Camping With Sarah Palin 'Cruel & Unusual Punishment'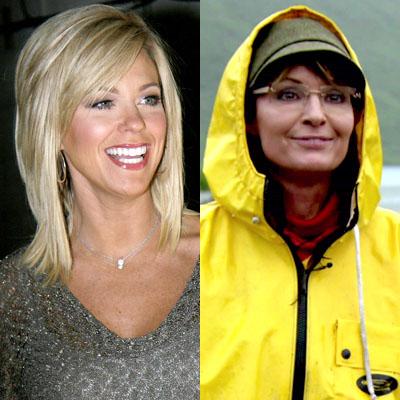 Kate Gosselin was clearly not a happy camper during her visit to Sarah Palin's Alaska.
Watch the video on RadarOnline.com
The hit TLC show Sunday night featured Kate and her brood traveling to Alaska, where they met up with Palin.
At first, the two women found common ground. "There's not a whole lot of people that I run into that can understand the scrutiny from the media and beyond," Kate said, to which Sarah agreed, saying the common denominator between Kate and she is that "we will put our children first."
Article continues below advertisement
While personally hitting it off with Sarah, Kate clearly was out of her element in the great outdoors, especially at the sight of the Palin family's authentic bearskin rug.
Kate looked even more uncomfortable during a bear safety class, a trip to the firing range and camping in the rain.
Once camping, Kate let viewers in on her "freezing-to-the-bone" misery, as she vented like the displaced city girl she is.
"I'm worried about my toes; they're freezing," Kate said. "I've been bitten by bugs about 200 times; it's horrible... I'm miserable, but somebody's gotta be... this is cruel and unusual punishment... the kids are having fun, so I'm tolerating it."
Better said, by Sarah's father Chuck Heath: "She bitched from the moment she got off the plane."
Sarah Palin's Alaska airs Sundays at 9/8c on TLC; her new book, America by Heart: Reflections on Family, Faith, and Flag, is in stores now.