Exclusive
EXCLUSIVE: Jon & Kate Gosselin Call Holiday Truce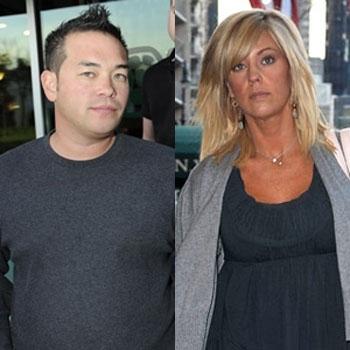 Kate Gosselin has still not met Jon Gosselin's girlfriend of six months Ellen Ross, RadarOnline.com can reveal.
While Ellen actively helps Jon out when he has his eight kids by his former wife, Kate, the two women have still never actually spoken face to face.
After Jon and Kate's marriage collapsed, Jon enjoyed a string of ill-fated romances with the likes of Hailey Glassman, Kate Major and Morgan Christie but he finally seems to have found stability with pretty 24-year-old Pennsylvania government employee, Ellen Ross.
Article continues below advertisement
Even so, Kate is still keeping her distance from her ex-husband's new love interest.
VIDEO: Kate Gosselin's Bodyguard Pulls Prank On Her During Alaska-Based Kate Plus 8
A source revealed: "Ellen and Kate have still not met face to face. But Kate doesn't have any issues with her kids being around Ellen as long as they are happy and safe.
"Since he started dating Ellen, Jon has become more level headed and his family is the priority now.
"Jon and Ellen are still going strong and despite what many people may think, she regards him as a good friend and boyfriend too."
Jon and Kate have agreed to call a truce over the holiday season by splitting-up time with their eight children.
And although they have a long way to go, it seems that their relationship is getting better as time goes on.
The source told RadarOnline.com: "Jon and Kate have come up with an amicable arrangement for Thanksgiving and the holiday season.
Article continues below advertisement
"They have not reached the stage where they could spend the actual day together but they are putting their kids first."
Last month, Jon used his Twitter account to express his feelings following his attempt to block his kids from appearing on TLC's Kate Plus 8 in court failed.
He wrote: "I am acutely aware of the mistakes I made in 2009 and I am ashamed of the choices I made.
"I have apologized to Kate, my family, and to my friends. Through counseling, I have learned to own my actions. My goal is to move forward in a positive direction.