Exclusive
EXCLUSIVE: Jon & Kate Gosselin Bury The Hatchet For Thanksgiving, Will Share Custody Of Kids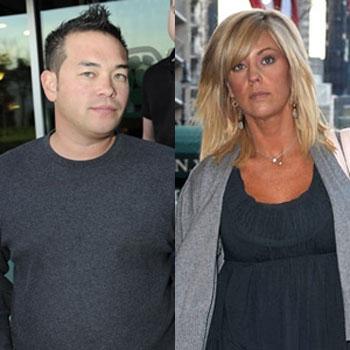 They had one of the most bitter marriage breakups in reality television history but Jon and Kate Gosselin have called a truce for Thanksgiving, RadarOnline.com has learned exclusively.
The holiday season can get awfully tricky for divorced couples but when you have eight kids to consider plus millions of fans watching your every move, these arrangements can quickly become impossible. But Jon and Kate have agreed that she will have their kids on Thanksgiving while Jon and his girlfriend Ellen Ross will have them them on an alternate day.
Article continues below advertisement
A source told RadarOnline.com: "Jon and Kate have comeup with an amicable arrangement for Thanksgiving.
"They have not got to the stage where they could spend the actual day together yet but they are putting their kids first.
"Nothing has been settled for Christmas yet but it could be a similar arrangement."
Last month, Jon used his Twitter account to express his feelings after his attempt to block his kids from appearing on TLC's Kate Plus 8 in court failed.
He wrote: "I am acutely aware of the mistakes I made in 2009 and I am ashamed of the choices I made.
"I have apologized to Kate, my family, and to my friends. Through counseling I have learned to own my actions. My goal is to move forward in a positive direction.
"The negative effects on my family was my greatest concern and far outweigh any monetary gain we received. Today, my children are much older than when we first started. They are acutely aware their life is markedly different from their peers."
Article continues below advertisement
Jon seems to have gotten his life back on track since he started dating pretty 24-year-old Pennsylvania government worker Ellen Ross this past Spring.
It's understood that she will be helping him celebrate Thanksgiving with his kids when he gets them the following day.
Ross has hit it off with his children and has brought a sense of stability to his love life after he went through a series of ill-fated relationships.