Exclusive
EXCLUSIVE: Gosselins Get Angry Phone Calls After Their Kids Tell Pals 'Santa Doesn't Exist!'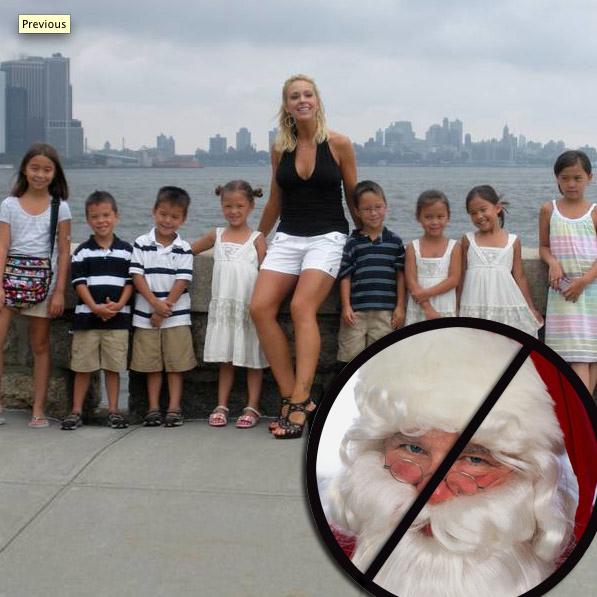 The Gosselin children have been accused of spoiling Christmas for fellow students after telling them that Santa does not exist.
"The kids don't believe in Santa Claus, and they're telling other kids at school that there is no Santa Claus," a close friend of the family told RadarOnline.com.
Children as young as six were told that "your parents are lying to you," causing reality TV dad Jon to receive calls from stunned parents upset that Santa Claus was exposed as a fraud.
Article continues below advertisement
"He has received many phone calls from parents because the kids actually told others that 'your parents are lying to you' causing them to get upset," the insider said.
Denying a report that two of her eight children were expelled from school, Kate this week admitted daughter Alexis and son Collin "were having anger issues."
The Kate Plus 8 star revealed that she and the school "mutually agreed" to take the pair out of school, and they're now studying with a private tutor.
While no one's saying which of the Gosselin kids spilled the 'Santa secret', the confidante revealed to RadarOnline.com how a pow-wow convinced them to keep the magic in the festive period.
"The kids are too smart at this point, but they are sweet about it and go along with it... and the Easter Bunny too," said the source.
Whether they believe in Santa or not, it won't be stop the gorgeous kids from having a Merry Christmas with plans to celebrate at both their mother's and their father's home.
Article continues below advertisement
"Kate gets even years and Jon gets odd years," said the source. "So this year, Kate has the kids on Christmas Day and Jon will have them on Christmas Eve.
"The kids will probably also get to open presents on Christmas Eve if Jon's mother says that's the plan.
"His mom has the final word on things like that. She is the stoic Asian mother that rules the roost."
As for their wishes this year, it seems that they have their minds made up and each have their own picks for presents - even if they don't come from the North Pole.