Exclusive
The World's Ugliest Dog -- Congratulations Yoda!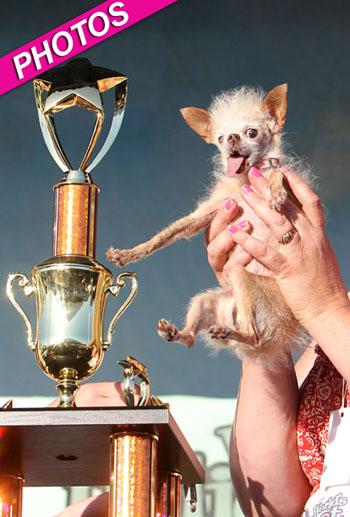 by RadarOnline.com Staff
Yoda, a 14-year-old Chinese Crested Chihuahua from Hanford, Ca, has won the dubious accolade of being crowned the World's Ugliest Dog Friday night amongst stiff competition.
With her one eye, sparse tufty hair and protruding tongue Yoda managed to wow the judges at the annual Sonoma-Marin Fair, beating out last year's winner, a one-eyed Chihuahua called Princess Abby, a hairless little Chihuahua called Handsome Hector with a tongue to match Yoda's inch for inch, a one-eyed pug and several other unfortunate looking, but clearly loved, little pooches.
Article continues below advertisement
But, Yoda's story very nearly didn't have the happy ending that it has as owner Terry Schumacher revealed she found her abandoned and scared out of her wits behind a block of flats.
Check Out This Year's Ugliest Dogs Competitors
Nicole confessed that at first glance she thought 2 lb Yoda was a rat but on closer inspection she realized her mistake and took the mangy little mutt in and gave her a good and loving home.
Well, they do say beauty is only skin deep....
RELATED STORIES: