Exclusive
Turtles On The Tarmac Close Down Runway At New York's JFK Airport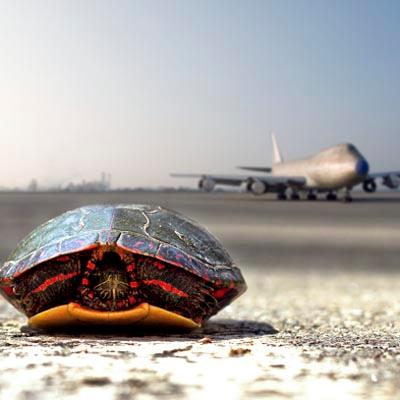 Move over Steven Slater: A group of turtles slowly migrating toward their breeding ground temporarily halted traffic at busy New York transportation hub JFK Airport on Wednesday.
The turtles caused Runway 4L to temporarily cease operations, while workers cleared the shelled show-stoppers from the runway.
Federal Aviation Administration spokeswoman Arlene Salac told the NY Post the turtles may have caused "a few delays, but nothing significant."
Article continues below advertisement
"Running over turtles is not healthy for them nor is it good for our tires," JetBlue said in a a statement
It's not the first time this sort of thing has happened, as female turtles who live in nearby Jamaica Bay crawl out to lay their eggs during their breeding season.
"The sandy spot on the other side of Runway 4L is ideal for egg laying," John Kelly, a spokesman for the Port Authority, told the paper. "It is a naturally provided turtle maternity ward.