VIDEO: Tape Surfaces Of Whale That Crashed On Sailboat!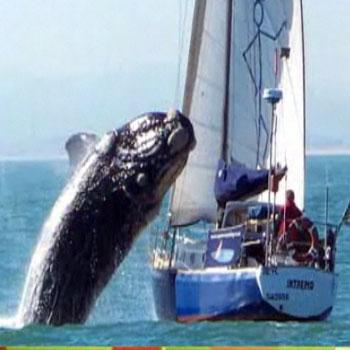 So much for the skeptics who thought a photo of a whale crashing into a South African couple's ship was photoshopped: a video of the incident was captured by a nearby boater, proving the stranger-than-fiction occurrence to be true.
Watch the clip on RadarOnline.com
It happened Sunday to Ralph Mothes and Paloma Werner, a South African couple sailing near Robben Island in Cape Town. As you'll see in the video, an endangered Southern Right Whale, estimated at 30-feet-long and weighing 40-tons, crashed into their yacht.
Article continues below advertisement
VIDEO: Couple Hit By Whale Speak Out
Amazingly, no injuries occurred, though the boat was damaged.
Mothes and Werner are now being investigated by South African authorities on allegations they were harassing the whale. The pair told Today Show's Matt Lauer on Thursday that they had their engine turned off and were not following the the whale, just watching it.