VIDEO: 40-Ton Whale Crashes Into Sailboat -See The Shocking Photo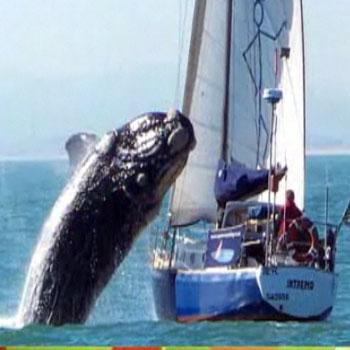 Free Willy, this wasn't.
A South African couple sailing near Robben Island in Cape Town over the weekend didn't get the quiet day they were looking for, when an endangered Southern Right Whale -- estimated at 30-feet-long and weighing 40-tons -- crashed into their yacht!
Watch the clip on RadarOnline.com
The couple, Ralph Mothes, and Paloma Werner, spoke with the Today Show's Matt Lauer Thursday about their harrowing experience, which was documented by a neighboring boater, who snapped a shot of surreal situation.
Article continues below advertisement
Werner, asked by Lauer if the photo is authentic, said: "We saw the whale, its legitimate, it hasn't been photoshopped."
Asked if the sailors followed proper protocol, Werner said they did not have the engine turned on and were not following the the whale, just watching it.
Mothes said the incident was particularly unexpected because the near-miss "was the third and final breach of this particular whale. It seemed as though we would not be on a collision course.
VIDEO: Jackass Stunt - 'Flying Donkey' Sparks Outrage
"I never for a minute thought this thing would hit the boat at all," he said, noting that he expected the whale to dive under the boat and come up on the other side.
"It just happened in an instant -- it was quite frightening," Mothes said, adding that the whale was bruised but not bloodied, and slipped back into the water instantly.