VIDEO: Jackass Stunt - 'Flying Donkey' Sparks Outrage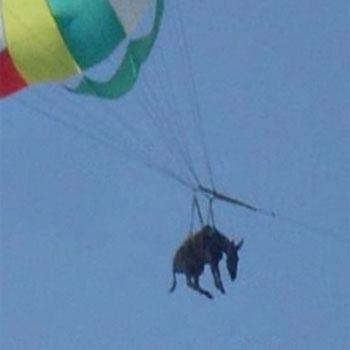 It's a bird, it's a plane, it's a ... donkey?
A stunt in which a group forced a donkey into a parasail harness at a beach -- then set it floating hundreds of feet over the water for 30 minutes -- has drawn the ire of authorities in Russia, who have launched an animal cruelty probe into the bizarre incident.
Watch the clip on RadarOnline.com
The stunt was orchestrated by an advertising agency intending to draw attention to parasailing rides at the beach on the Sea of Azov in southern Russia, officials said, adding that those responsible could face two years imprisonment if convicted on animal cruelty charges.
Article continues below advertisement