VIDEO: Shocking Bison Attack Caught On Tape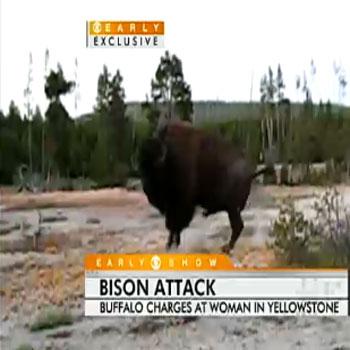 A married couple and their relative cheated death after they were almost trampled by a marauding bison at scenic Yellowstone National Park, and RadarOnline.com has the video of the terrifying incident.
Cathy Hayes - a teacher from Utah - was videotaping the huge beast at the park in Wyoming while her husband Jeff and his brother Donald watched-on.
Watch the video on RadarOnline.com
But then the bison became agitated and charged her and her brother-in-law while her husband honked his car horn.
Article continues below advertisement
On CBS's The Early Show on Friday, Cathy told co-anchor Chris Wragge the bison "flipped me end-over-end like a rag doll, in the air."
It turned out she didn't suffer life-threatening injuries, but was pretty badly banged up - suffering severe bruises on her legs and knee.
Her brother-in-law, Donald, broke his shoulder when he tripped and fell.
VIDEO: Jackass Stunt - 'Flying Donkey' Sparks Outrage
Hayes revealed she could hear the bison stomping and snorting around her, and thought she was going to die.
"They say stay 100 feet away," Hayes said. "We were about 30, 35 feet. I zoomed in on him ... but that's not far enough because they're fast and they can turn on a dime."
VIDEO: 40-Ton Whale Crashes Into Sailboat -See The Shocking Photo
According to authorities, this was the third time visitors to Yellowstone have been injured by bison this summer.