Get Ready For Some Fin Fun As Shark Week Goes High-Tech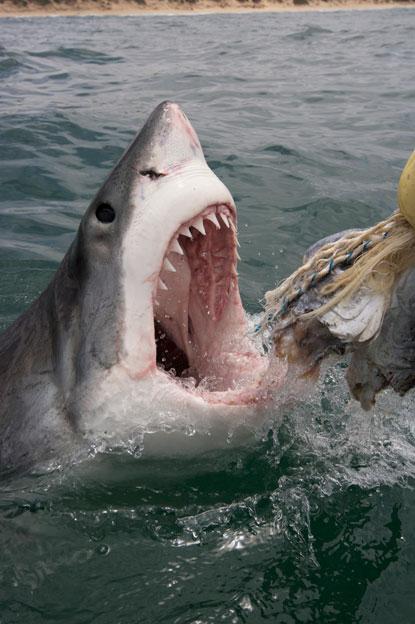 The Discovery Channel kicks off cable TV's most highly-anticipated event -- Shark Week -- with Ultimate Air Jaws, a crystal-clear look into a series of shark attacks.
This year, producers will incorporate the use of HD, providing so much detail you can literally count every tooth in the shark's mouth. With a camera that shoots in super slow motion -- 2,000 frames per second -- viewers can watch slowed-down, picture-perfect images of a breaching shark.
Article continues below advertisement
Reality TV: Gia Of You're Cut Off
Technology also plays a key role in another Shark Week special, Into The Shark Bite, in which viewers can watch the power of a shark bite from extraordinary angles filmed with the latest high-speed, high-definition cameras. Yes, Shark Week takes you literally, inside the jaws of sharks.
Key info in this year's Shark Week will detail how shark attacks can happen, and what you can learn to do so that neither you nor the shark gets hurt; testimonials from six shark attack survivors; and a montage of some of the most jaw-dropping moments from past specials to learn amazing feats, facts and science from the world of sharks.
Shark Week kicks off with Ultimate Air Jaws Sunday, August 1 at 9/8c.