GIA OF YOU'RE CUT OFF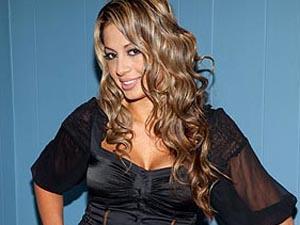 VH1 has been serving up the drama on their latest reality show You're Cut Off. Nine princesses living off their family's wealth think they have been tapped to appear on a reality show called The Good Life. They get the shock of their life when it turns out they've all been cut off and must live together to learn how to get by convenience free! RadarOnline.com caught up with Gia, one of the most controversial divas on the show. She explained why she's a way better mother than portrayed on the show, the truth about her housemates bank accounts and why her shopping habit will never die!
Article continues below advertisement
RADARONLINE.COM: How has life changed since appearing on the show?
GIA: It's been great. I get a lot of recognition everywhere I go. I have a lot of fans, yet I do have a lot of people who hate me because of the show. But otherwise it's been great.
Paula Abdul Begins Auditions For Her New Reality Show
RADARONLINE.COM: Why do people hate you?
GIA: I think they're jealous, but obviously they don't understand. All they see is what's edited into one episode. They don't know what's behind living with that many girls and what goes on.
RADARONLINE.COM: What was your reaction when you realized you weren't on The Good Life and really on You're Cut Off?
GIA: I said, 'No way. My husband didn't cut me off. Somebody must have put a gun to his head to say that.' I was in denial. It was like, you know, this is crazy. This is like some kind of trick and after two days they're going to say, 'Okay, it's not. You're really at The Good Life.' It was hard to accept it.
Article continues below advertisement
RADARONLINE.COM: Did you forgive your husband?
GIA: I forgive him. I was the only one on the show that's married with a child so I felt like nobody really understood me. I felt like everybody else in the show was living off mom and dad's money. And I have a restaurant in my name so I felt like as much as my husband try to cut me off, I still have a lot of assets in my name that I've worked hard for.
RADARONLINE.COM: Do you look back now and understand why your husband wanted you on the show?
GIA: It's kind of a trick question. It's like I kind of think everything I'm doing is perfect, at the same time, like I told our life coach Laura Baron, I didn't want to come out of this experience empty handed. But it didn't make me want to cook, didn't make me want to clean or anything, but it did make me want to spend more time with the family. And you know, instead of shopping all the time with my daughter and doing her nails, to maybe read her a book and spend more mommy time together. But I'm new to being a mom, so I thought that was the way of giving my daughter great attention and being with her.
Article continues below advertisement
RADARONLINE.COM: What were some of the most extravagant purchases you made before the show?
GIA: Yeah, obviously the biggest purchase that I made was going from a six bedroom house to a seven bedroom house. To me, that's still like not that big. But I mean, I love shopping and at the same time, I do like helping people out. So I did make it very clear numerous times on the show whether they edited it or they didn't show it but I did say that to me it's not always all about name brands. Do you know what I mean? Like, I would rather buy ten outfits at $100 each, than buy a Gucci dress for $5,000. I like to wear it only one time and then I donate it to my housekeeper and her kids and to my church. So to me, I make better use out of it because whether I buy a dress $10,000 or $100, I'm only going to wear it once. It's just better use to not hold onto something so valuable and to be able to donate it afterwards, which I do almost every single week.
RADARONLINE.COM: What was the biggest challenge of living in the house?
GIA: The biggest challenge in that house was to get up period. I don't normally get up before 11 or 12. I had to get up around 6, sometimes around 7 and I hated my life and I didn't sleep and we were up all night. It been that way my whole life. I've never owned an alarm clock. Even when I had school or college and I had to get up early, I always relied on somebody else waking me up because I don't listen to alarm clocks. That was the biggest challenge. And being able to live with that many girls and share a bathroom - that was hard. I don't like to walk in the bathroom and see nasty weaves and extensions all over the sink.
Article continues below advertisement
Katy Perry To Host Teen Choice Awards On Fox
RADARONLINE.COM: What were your thoughts about the other girls?
GIA: It just made me realize that I was always right and on point when I said that I don't get along with girls and thank God for being married because I could not see myself living the single life like them. But I mean, I wish them all the best in everything that they do, but I would never ever live with them again or go through this experience. You know, I'm so glad it's over with but they did make me appreciate being married and it just seemed like I was on a totally different level than they were being in that house.
RADARONLINE.COM: What are some changes that you've started to make in your life back home?
GIA: I would like to say that I cut down in shopping, but I do think that I'm addicted to shopping—honestly. I have to do it every day. It's a really sickening and I have so many clothes that if you were to go in my closet right now, I literally have more clothes that are brand new than clothes that I've worn. The master closet is for me. My husband is not even allowed in there. It's just completely mine, so he doesn't know half the stuff that I have. And then I have other closets in the house as well. At least I admit it that I do hopefully soon will probably need some help with that, because it's just like a drug, you know?
Article continues below advertisement
Katy Perry: Calling All California Gurls
RADARONLINE.COM: Were you a big shopper growing up too? When did this start?
GIA: Yeah, I was always a big shopper. But obviously there is always a limit to what you have and what you can spend as well. My parents would always spoil me, always give me all that I want, but there was always a limit also to what I could get. So I understood that, but being married to my husband, he has never really stopped me or gave me a limit or told me anything. The first couple dates that we went on, I would say, 'Which dress should I get? This one or that one?' He was just like, 'Get all of them.' I was like, 'Damn, really? I can really get used to this.' That's what happened. I got used to it.
RADARONLINE.COM: Do you think your husband regrets sending you on the show?
GIA: I don't know because I never really asked him. I think he regrets doing that because watching the show, he sees what I was put through and that I was always angry and upset and crying. He sees the bags under my eyes and he feels bad that he did put me through this. But at the same time, he notices the changes too, the subtle changes.