CONTROVERSY: Pink Slams Selena Gomez Over Pink Horses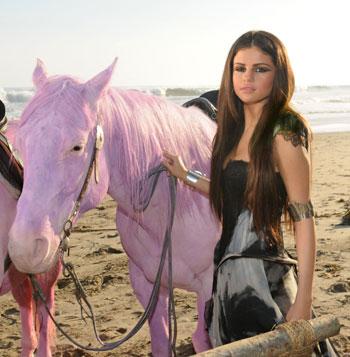 RadarOnline.com Style & Beauty Editor
Didn't Selena Gomez learn from Pink Taco's painted-pink mistake?
The Disney star, who frolicked around the set of her latest music video on a Malibu beach Thursday with pink horses, is being slammed by musical artist and animal activist Pink.
On Thursday, Pink learned that a musical artist was shooting a video on Leo Carrillo State Beach, where horses were being painted her signature shade.
Article continues below advertisement
"If there are any animal activists around Malibu- at Leo Cabrillo State Beach, there are horses being painted for a stupid music video," Pink tweeted on Thursday. "Shame."
She followed it up with another message that same day.
"Artists should be more aware and responsible for their actions."
After photos were released on Friday of Gomez on the set of her music video, Pink returned to Twitter to continue her rant.
"oh lord, THAT'S whose video it was? Disney fans unite. here we go."
Shortly after, she continued, "whether u r a fan of mine of whomEVER'S, i won¹t stop speaking out about animal cruelty. I've taken responsibility in the past, so should she."
Gomez's rep denies that any animals were harmed in the process
"It was important to the Production Company, Record Label and Ms. Gomez that no animals were harmed and all proper precautions were taken," Gomez's rep said in a statement to People Magazine.