Cinco De No-No! Painted Donkey At Taco Place Has Celebs Braying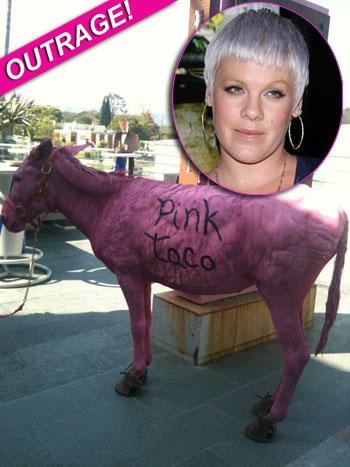 Radar Staff Reporter
Singer Pink and other celebrities are furious with a Cinco de Mayo publicity stunt at the well-known Pink Taco restaurant in Century City, California.
The eatery chained a live donkey, fully painted in pink, outside in 90-degree heat for hours to encourage patrons to party at the establishment.
PUPPY PHOTOS: Check Out The Puppies Playing In This Year's Game
The donkey had the words "Pink Taco" painted on its shaved body.
Article continues below advertisement
Minutes after the donkey's photo went viral, celebrities lashed out against the restaurant and took their anger to Twitter.
"Never go to @PinkTacoLA. Pic of the painted donkey chained to wall," Singer Pink re-tweeted Thursday.
Stephanie Pratt, former star of The Hills, tweeted two messages: "What the f**k is wrong w people. We should paint them pink + chain them 2 a wall for hours + hit them when they don't 'perform.'"
"Wow u couldn't just get a pinata?? @PinkTacoLA. Sick, evil, cruel people. I will never eat at one of ur restaurants again," Pratt tweeted.
Fellow MTV star Lo Bosworth responded to Pratt's tweet saying: "@PinkTaco that is so wrong, it makes me hurt inside."
Radar has learned that PETA officials are looking into the incident.
Pink Taco was founded by Hard Rock heir Harry Morton, who has dated Lindsay Lohan and been linked to Jennifer Aniston.