Exclusive
EXCLUSIVE: Spencer Pratt -- From Bad Boy Rapper To Animal Rights Crusader?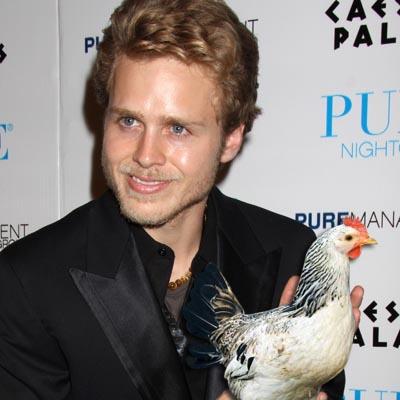 Aspiring rapper Spencer Pratt was planning to pitch a song he wrote and performed about chicken wings to fast food chain KFC.
But, the former reality TV star shelved the idea after listening to the finished product -- unfortunately however, not before the song was leaked all over the internet.
EXCLUSIVE: PETA Reach Out To Spencer Pratt To Join Their Anti-KFC Campaign
Always quick to spot a red hot promotional opportunity, animal rights group PETA heard about Pratt's aborted attempt to become a rapping KFC spokesperson and challenged the 27-year-old to cross over to the other side, by recording an anti-KFC rap instead.
Article continues below advertisement
In an email exclusively obtained by RadarOnline.com, PETA Senior Vice President Dan Matthews writes: "Dear Spencer, Instead of rapping about KFC's wings, why not speak up for the chickens who are scalded to death for the colonel?
"As you can see in this video hosted by Pamela Anderson, chickens who are killed for KFC live their entire lives mired in their own waste and filth, only to be shackled upside down by their fragile legs and have their throats cut while they are still conscious.
After watching the video, please consider recording a PETA campaign tune for our Kentucky Fried Cruelty campaign. Thank you for your consideration. Sincerely, Dan Mathews, Senior Vice President."
Spencer is a seasoned musician, and as RadarOnline.com previously reported, The Hills star once had designs on taking over the hip hop world recording a number of catchy tunes, before finances dictated an end to his aspirations.
Article continues below advertisement
Meantime, it's somewhat of a turnaround for the animal rights activist group. They once lambasted avowed hunter Spencer and his wife Heidi Montag for choosing to buy a pure breed dog rather than adopt from a shelter.
However, Spencer's sibling Stephanie has always been in PETA's good books. The animal lover once posed naked (except for a fluffy bunny protecting her modesty) for an ad campaign for the group, encouraging everyone to 'be nice to bunnies'.