Exclusive
'We Had A Lion Shot Dead In Our Back Yard' Say Neighbors Of The Released Ohio Wild Animals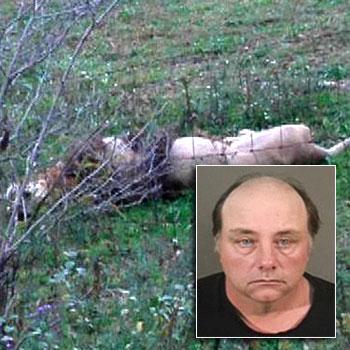 Locals living near the Zanesville, Ohio ranch where 48 wild animals were set free on Tuesday evening before their owner killed himself have known for years that Terry Thompson owned a home-made zoo, but were shocked to find the exotic creatures loose on their own land, RadarOnline.com has exclusively learned.
Neighbors Delores Kopchak and her son Sam live on the next property over from Thompson, who opened the cages and gates of the animals -- including bears, cheetahs, wolves, lions, camels, giraffes and a white Siberian tiger -- prior to giving himself a fatal, self-inflicted gun shot wound, as RadarOnline.com previously reported.
Article continues below advertisement
"My son saw the lion and the bear first," Delores told RadarOnline.com in an exclusive interview, explaining that Sam had gone to put the family's new horse in the barn in the early evening when he noticed that the animal was distraught and rustling.
"He looked up and there was a bear, then he turned around and saw there was a lion,' she said, adding that the two properties are only separated by a wire fence.
"We've heard the lions roar at night for years but didn't expect to find one loose.
"I called Terry as I didn't know he was already dead. We always did that when his horses got out, but this time I couldn't wait so I called 911. The police were there within 12 minutes," she said.
After the Sheriff and his deputies arrived on the scene, officers began shooting the loose animals with assault rifles.
"We heard shooting all evening, 'Bang, bang, bang.'
Article continues below advertisement
"We had a lion shot dead in our back yard," Delores revealed. "It wasn't any fun. I just turned 84 and I don't need this."
While his horses and cattle have broken out before, along with a pesky pony who can push under the fence, Thompson's elderly neighbor said that Tuesday evening's events was the most dramatic escape yet.
"Nothing like this has happened before, they were set loose on purpose. There was a bear walking up the road one point!
"I hope this changes the law, that no one should have these wild animals here in Ohio," she told RadarOnline.com.
Delores went on to explain that she thinks all the animals had legal permits, and she had never complained to Terry or the authorities about them.
"We were friendly with him. We didn't know him real well but we'd talked to him for years when his animals got out and he'd thank us for letting him know and apologize.
Article continues below advertisement
"He did have giraffes and camels at one point but I've not seen them lately."
Thompson ran a motorcycle and service center called T's World from the ranch and the animals were not part of a business.
"He said he just liked them, he raised some of those lions and tigers from babies," Delores told RadarOnline.com. "We heard that one of lions just roamed around like a pet.
"It's just a shame what happened to the animals and Terry," she lamented sadly.