Owner Of Wild Animals Released Them Before Committing Suicide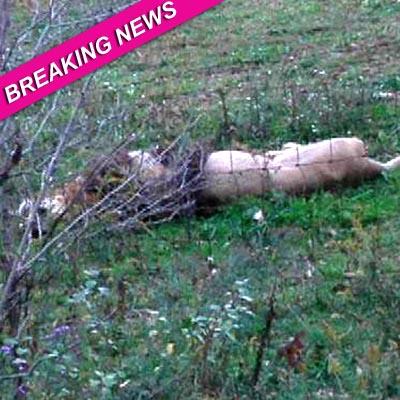 The owner of a wild-animal preserve -- that housed as many as 48 wild and exotic animals -- opened the pens and cages of his menagerie before killing himself, authorities in Zanesville, Ohio said during a news conference Wednesday morning.
The property owner, Terry Thompson, opened the cages and gates of the animals -- including bears, cheetahs, wolves, lions, camels, giraffes and a white Siberian tiger -- prior to giving himself a fatal, self-inflicted wound, police said, adding they were waiting on autopsy results.
Article continues below advertisement
Three animals are unaccounted for -- a lion, a bear and a monkey -- police said in a preliminary estimate. Authorities shot and killed about 30 of the animals Tuesday, and were under orders to shoot to kill during overnight efforts to round up the animals.
Police told the public not to take any action if they spotted the animals; earlier Wednesday, Muskingum County Sheriff Matt Lutz said locals should stay inside their homes until the situation was resolved, while road signs told motorists to remain in their cars. Three school districts cancelled classes in connection with the incident.
The late owner, Thompson, 61, had recently wrapped up a year-long prison sentence on a weapons conviction, and had been cited for animal abuse and neglect before, as well.
"Since 2005, we've been out there 16 times for reports of animals at large, 8 times for animal complaints and three times for animal cruelty," police told RadarOnline.com.
Zanesville has a population of about 25,000, and sits about 55 miles east of Columbus.