Ohio Governor Calls For Tighter Laws Against Exotic Animals After Massacre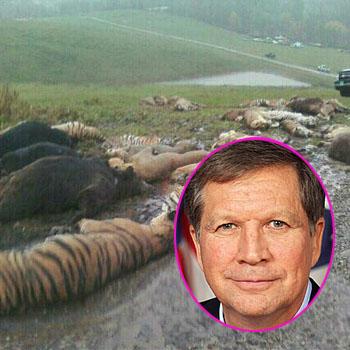 In light of this week's massacre of up to 50 exotic animals after their owner released them and then killed himself, Ohio's governor plans to sign an executive order to push for tighter regulations to avoid it ever happening again, RadarOnline.com has learned.
"Fortunately, today, I'm able to sign an executive order that will have teeth, that is founded in the law, and gives power to people," Governor John Kasich said in a news conference on Friday.
Article continues below advertisement
As RadarOnline.com previously reported, Terry Thompson of Zanesville, Ohio, opened the cages and gates of the animals -- including bears, cheetahs, wolves, lions, camels, giraffes and a white Siberian tiger -- prior to giving himself a fatal, self-inflicted gun shot wound.
The Muskingum County sheriff deputies went on to shoot 50 of the 56 wild beasts on Tuesday evening with high-powered rifles in the fear that they would attack local residents, who were ordered to stay in their homes under lock-down, RadarOnline.com reported.
The mass execution, which included the shooting of numerous endangered species, has caused outrage across the country, with many demanding a change in the state's lenient laws regarding permits.
"Changes must be made in the law," said Kasich, who wants the departments of agriculture, natural resources and health to work with local health officials, humane societies and law enforcement to identify and investigate where dangerous animals might be kept.
Article continues below advertisement
The governor also plans to crack down on unlicensed auctions that sell dangerous animals, and to have wildlife agencies work with zoos to safely house animals that are captured or confiscated.
Earlier Friday, Harry Peachy, Curator of Mainland Asia at the Columbus Zoo told RadarOnline.com that he approved of how Sheriff Matt Lutz handled the potentially deadly situation when Thompson's animals were on the loose.
"The sheriff had a decision to make and he did what he had to do, it could have been so much worse. If there had been a loss of human life it would have been a huge tragedy," said Peachy in an exclusive interview.
"It's tragic what happened. It's not a decision we were responsible for and I am glad that I didn't have to make it.
"If it had happened at the zoo we would have had a controlled situation and we would have acted differently but we would never put innocent people at risk," he explained.
Article continues below advertisement
Many have asked why the animals were shot and their bodies left in piles on the side of the road, as shocking photos obtained by RadarOnline.com revealed, instead of being tranquilized.
"Tranquilizing doesn't work quickly enough. It was probably not an option," Peachy told RadarOnline.com, who revealed how a vet for wildlife center, the Wilds, tried on Wednesday morning to tranquilize a lion that was sitting very still, but as soon as she it hit it with the dart it moved aggressively and lunged to attack her so the big cat was shot by law enforcement.
"There is a rush of adrenalin after an animal is shot then it needs to calm down until the drug kicks in, that could take at least 10 minutes, and the amount of havoc that it can do in that time is unimaginable.
"The deputies feel terrible about what happened," he revealed. "Hunting is a popular activity here, and I am sure a lot to those guys do hunt, but if you grow up hunting whitetail deer, you respond differently if it is suddenly a bear or a lion in your scope."
Article continues below advertisement
Peachy went on to explain how Harley Davidson dealer Thompson, who had permits costing $50 each for all his animals, might have managed to acquire such an extensive personal zoo.
"There are enough people in Ohio who breed lions, tigers and bears that they are not hard to buy," he said. "There are also exotic auctions that sell them.
"Take into account this person's background, he just got out of prison, it's within the realm possibility that he broke the law getting them," he added.