Ohio Exotic Animal Owner Bonded With His Bears, Wife Wants Animals Back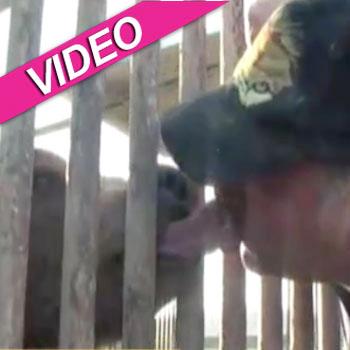 As news breaks that the widow of the man who released his 56 wild animals and then turned a gun on himself wants to get the remaining animals back, new video has emerged showing the close relationship he had with his exotic pets, and you can watch it here on RadarOnline.com.
In the touching footage that was filmed two years ago, first broadcast by ABCNews, owner Terry Thompson, of Zanesville, Ohio, can be seen trading kisses with a huge bear, telling him: "You silly thing, you," as if the giant was a lap dog.
Article continues below advertisement
It is clear how comfortable the 62-year-old was with his animals as Thompson plays with potentially-dangerous creatures. "He'll scare the average guy," he laughs as a baby bear gnaws gently at his hand. "It's called suckling."
Terry is then cheerfully greeted by a lion, who stands up against the fence on two legs and towers above his owner.
Sadly, most of these beautiful creatures are dead after the Muskingum County sheriff deputies went on to shoot 50 of the 56 wild beasts on Tuesday evening with high-powered rifles in the fear that they would attack local residents, who were ordered to stay in their homes under lock-down, RadarOnline.com reported.
The only survivors - three jaguars, a grizzly bear and two Macaques (primates) - are now at the Columbus Zoo after being tranquilized and safely removed from the property and RadarOnline.com has exclusive details on how they are settling into their current home.
"They seem to be doing pretty well, they are of course adjusting to a new routine, new environment and new people but they are settling in," Harry Peachy, Curator of Mainland Asia at the Columbus Zoo told RadarOnline.com in an exclusive interview.
Article continues below advertisement
The animals shouldn't get too used to their new surroundings, however, as they may be on the move again soon, either back to the Thompson property or to a new wildlife center.
"Long-term we don't know what will happen to them, there is the possibility that the widow (Marian) will make a legal claim and get them, back," explained Peachy.
"Our opinion at the zoo is that it wouldn't be the right thing for her to get them back, but in Ohio right now it wouldn't be a violation of law and a court could rule that they are returned.
"I am sure Sheriff Matt Lutz wouldn't agree with it and will voice his opinion that he thinks it could be dangerous to the public."
Thompson's estranged wife, Marian, made an emotional visit to the zoo on Thursday to see the animals who she called "her babies." She begged animal expert Jack Hanna not to take away her family when they were removed from her former home.
"Marian was upset when she was here," explained Peachy, "You have to consider what she's been through, even though she was separated from Terry she must be distraught over his death, and feel somewhat responsible for what happened."
Article continues below advertisement
As the Mayor of Zanesville, Howard Zwelling told RadarOnline.com: "She truly loves those animals and this is devastating for her. She just lost her husband, and now she's lost the only family she has. It's tragic."
If the surviving six animals don't go home: "We've had a number of institutions offering to assist," said Peachy, adding that the Columbus Zoo doesn't have the facilities to keep their surprise guests permanently.
"We're a zoo so it's a question of if they fit into our collections. Macaques are not something we have here and didn't expect to be suddenly getting."
The problem may escalate if the legislation in Ohio regarding owning exotic animals changes, as more animals may need to be placed in new homes.
Peachy went on to describe the zoo's unexpected residents, Cleo, a 10-year-old jaguar, her partner Anthony, 8, and their 3-year-old son, Anton.
Article continues below advertisement
Pooh is a 2-year-old Bear, while the brother and sister Macaques, both 2, are named Kong and Kain.
Cleo comes across like she could be aggressive, but the Macaques are very domesticated and don't act like regular members of their species do.
"Kong is doing what a normal Macaque would do to demonstrate threat by curling his teeth back, but when he does it looks like a smile," revealed Peachy. "We think that the Thompsons reinforced this behavior with treats and encouragement, he's doing it in a friendly way but not as a threat."
The lucky ones avoided the massacre because they were still inside the house when the shooting started, "The bear was still in a cage in the barn. They were the favorites in the family," said Peachy.
If any of the lions and tigers had survived the animal slaughter, they wouldn't have fitted in easily in a zoo environment.
"Because of their backgrounds, they wouldn't have been able to integrate them because they had not lived in a pride and all our big cats are used to socializing with the rest of their breed," explained the zoo representative.
Article continues below advertisement
As RadarOnline.com previously reported, Thompson had recently wrapped up a year-long prison sentence on a weapons conviction, and had been cited for animal abuse and neglect before, as well. He'd been warned at least 30 times in the past year to control his animals, officials said.
Zanesville has a population of about 25,000, and sits about 55 miles east of Columbus.
Watch the touching video below: