Surf's Pup! Dogs Hit The Waves For A Canine Casting Call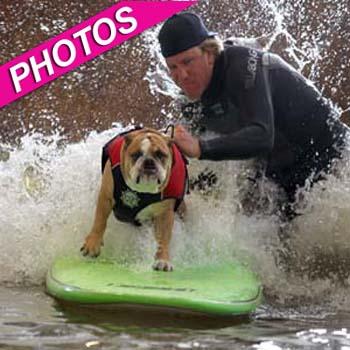 The slickest surfers in the canine world attended a special casting call on Wednesday to pick the best doggy wave-rider and RadarOnline.com has super cute pics, and video of the talented pooches.
Hundreds of sporty spaniels and talented terriers took to their boards in a 50-ton wave machine at the headquarters of Fiesta Parade Floats in Irwindale, California, as a panel of judges put them through their paces.
Article continues below advertisement
The water-loving pups were competing to see who would join Tillman, the famous skate-boarding bulldog, on the "world's longest and heaviest float" sponsored by Natural Balance Pet Foods at the Rose Parade in Pasadena, California on New Year's Day, reported MyFoxLA.com.
Known as the Shawn White of dogs, steady-pawed Tillman swapped his skateboard for a surfboard during the audition for a special performance that looked straight out of Point Break in front of the aspiring surfers.
In case some of the competitors weren't natural water babies, all the dogs were dressed in life jackets to prevent them from drowning.
Those who wanted to keep their paws on dry land showed off their skills riding scooters, skateboards or doing their favorite tricks.
The winners will get to surf on 65-foot long waves in more than 6,600 gallons of water on a float weighing more than 100,000 pounds during the parade.