Mr. Bojangles Gets A Second Lease On Life Thanks To Doggy Pajamas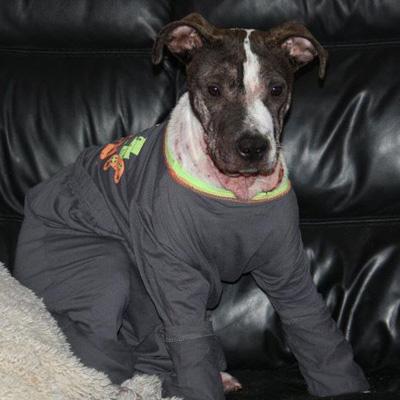 A pound pooch took itching and scratching to deadly extremes due to a painful skin condition that almost led him to be put down.
Luckily for Mr. Bojangles, a five month old mixed breed from Cambridgeshire, England, the life-saving treatment came in the unlikely form of a cozy set of pajamas.
The adorable black and white pup suffers from Demodex mange which had been left untreated for so long that Bo constantly bit and scratched himself to ease the unbearable itching, reported the Sun.co.uk.
Article continues below advertisement
Volunteers at Impawtant Pups Rescue in Burton-on-Trent in Staffordshire rescued the dog (formerly known as Jasper) from being put to sleep because of his infected open wounds, and invented an innovative way to ease his skin torments by dressing him in puppy pajamas.
Emma Nicholson took Bo home from the English rescue center and picked out the stylish nightwear to save him from scratching his skin totally raw.