Giant Panda Cubs Snuggle Up At The World's Cutest Nursery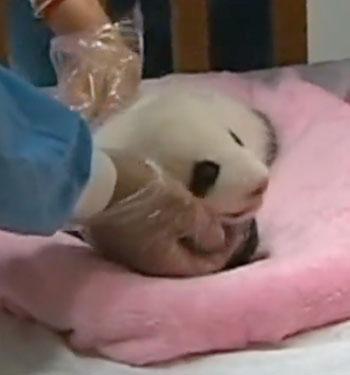 Watch out, we could be heading for an absolute cuteness overload!
In what must be the snuggliest day-care in the world, a giant panda nursery has released new footage of its furry residents, with photos of the adorable black-and-white sleeping beauties all lined up in a row and nestled on a fluffy pink blanket.
While they look like they don't have a care in the world as they nap in their big wooden crib, the Giant Panda Breeding Center in Chengdu, in south-west China's Sichuan province, was opened in 1987 to protect the rare breed from extinction.
Article continues below advertisement
It is the fourth of its kind since the program was launched in the 1970s, during the last count there were 1,596 wild pandas in China, with 1,206 of them living in Sichuan.
Wild pandas are threatened by a loss of habitat, poaching and because they are notoriously poor breeders. Females in the wild normally only have a cub once every two or three years.
Fertility rates among the 300 captive giant pandas in China are even lower.