In Hog Heaven! Porky Models Put Their Best Trotter Forward And Strike A Pose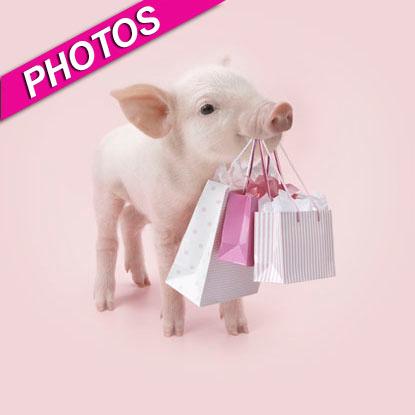 Put away the bacon sandwiches!
Dressed in pink outfits that would make Paris Hilton green with envy, a group of super cute piglets are showing off their best side and strutting their porky stuff, and RadarOnline.com has all the adorable photos.
The unusual shoot was aimed to dispel the myth that pigs are dirty animals by showing off their glamorous side and proving that the farm yard favorites can be divas too.
Article continues below advertisement
Looking more prim and proper than the bovine cast of Babe, the model pigs can be seen carrying snoutfuls of shopping bags, letting their ears fly in the wind, driving a mini-convertible sports car, and running on a treadmill in tiny ankle warmers.
The Hollywood style shoot was created by photographer Bob Elsdale and creative director Holly Brown of British based-company, Wildside which is dedicated to caring for young animals.
The curly-tailed models, who were raised by Elsdale and his wife, Chris, are happy to show off their best side to the camera.
"The piglets often come to us when they are just a few days old - and we help to feed them by hand, and build up a real bond with them," Elsdale said.
"They become so used to human contact that having their photo taken becomes a game to them - all the pigs we've had have loved playing up to the camera."