Biscuit-Balancing Retriever Proves You Can Teach An Old Dog New Tricks!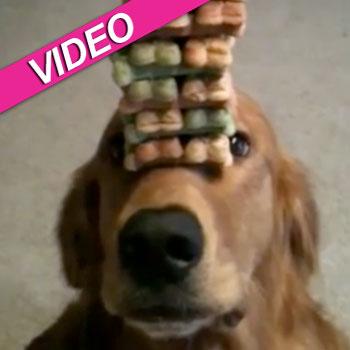 A talented dog really deserved a treat after successfully balancing a tower of biscuits on his nose without dropping - or eating - a single one!
The self-controlled golden retriever sat patiently still as a stack of 36 bone-shaped treats were balanced on his nose, and RadarOnline.com has the hilarious video of his canine feat.
Andrew Bollom carefully placed the biscuits one by one as his girlfriend's patient pooch stared intently into the camera in a video that has become a YouTube sensation and already gotten more than 40,000 hits in just the past week.
Article continues below advertisement
After posing with what looks like the board game Jenga on his nose, the acrobatic dog then lies on his back and balances more biscuits from the prone position.
Unfortunately for the poor pooch, after all that work he only got three treats for his effort.
Watch the video on RadarOnline.com below:
Elderly Woman Receives Death Threats From Animal Planet's 'Pit Bulls And Parolees' Fans