Newly Adopted Dog Saves Family Just Hours After Being Rescued From The Pound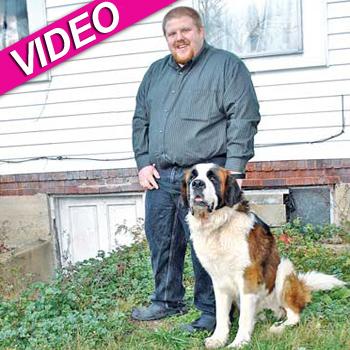 He'd only been adopted hours earlier but already Hercules was feeling like part of the pack, springing into the role of guard dog when burglars broke into his new family's home, RadarOnline.com has learned.
When the 135-pound Saint Bernard and owner Rubert "Lee" Littler took their first nighttime walk together on Wednesday, the protective pound pooch suddenly began growling and chased an intruder out of the basement of the southwest Ohio house, reported the Times-Gazette of Hillsboro.
Article continues below advertisement
The potential home-invader had already allegedly cut the telephone and cable lines and was preparing to break in before the man's best friend alerted Littler of the danger.
Hercules pulled from his new owner's grip on his collar and chased the burglar down, biting his ankle and dragging him to the ground as he attempted to escape over a six-foot fence.
The heroic capture has cemented his place in the hearts of the Littler family, who rescued him from being put down by the Highland County pound earlier in the day but weren't planning to keep him.
"Originally, we adopted him because we didn't want him to be euthanized. We thought we'd get him back up and going and see if we couldn't get him a new home or some rescue group to take him," said Lee, who has four other dogs.
"But now we don't know what we're going to do. I think he's more or less earned his right to stay."
The brave canine hero is a far cry from the bloody, dehydrated mound of fur who was found on a trail by hikers on October 29 and was brought back to life by local vets, who think he had been attacked by coyotes.
Article continues below advertisement
Herucles' heroics have turned him into a local legend and now his new-found fame is going to help other needy pets.
Littler announced on Monday that he wants to start a rescue program to save more animals from being euthanized, beginning with a system of foster families, and building up to a facility designed for the care of rescued pets.
Watch video of the brave canine below: