Panda 'Babysitters' Dresses Up As A Bear To Snuggle Up To Their Subjects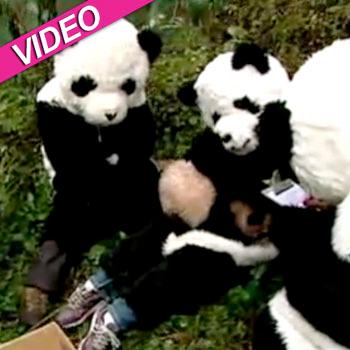 By Debbie Emery - Radar Reporter
Researchers in China have dared to bear in an effort to get up close and personal with their furry subjects, and RadarOnline.com has video of their unusual tactics.
The Wolong Panda Research Center was once a thriving tourist attraction and successful panda breeding center, but since an earthquake ripped apart China's Sichuan Province in 2008 it has become neglected and most of the enclosures are now empty, reported ABCNews.com.
Article continues below advertisement
One person who is still there though is Doug Chou, a researcher who goes the extra mile to get accepted by the pandas by regularly slipping into a giant panda suit.
"I would describe my job as caretaker or babysitter for Pandas," said Chou.
The unusual tactic isn't just for fun but actually to stop the pandas from getting too attached to people so that they can one day be released into the unmanned reserve.
The male (and female) fake bears take young panda cubs and measure and weigh them while dressed as adult pandas with clipboards and pens.
Watch video of the strange research method below: