Dog Veterans Suffer From PTSD After The Horrors Of War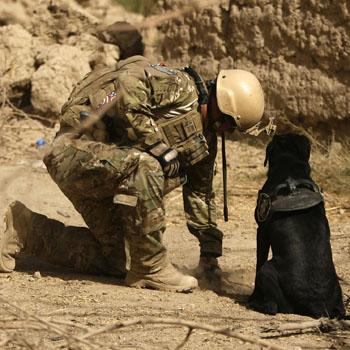 By Debbie Emery - RadarOnline.com Reporter
Dogs increasingly fight alongside their human comrades in war zones and now more and more canine soldiers are suffering from post traumatic stress disorder, RadarOnline.com has learned.
As the number of dogs in the military has risen over recent years, so has the disturbing side effects that they suffer after coming home, the New York Times reported.
Many four-legged patients are now even seeking medical help from behavior specialists to battle the deep-rooted fear they have after fighting on the front lines, and experts estimate that more than 5 percent of the approximately 650 military dogs deployed by American combat forces are developing canine PTSD.
Article continues below advertisement
About half of the victims are even forced into early retirement, explained Dr. Walter F. Burghardt Jr., chief of behavioral medicine at the Daniel E. Holland Military Working Dog Hospital at Lackland Air Force Base in San Antonio, Texas.
When you consider the hardships that the dogs have to endure, which include sniffing out mines, clearing buildings and tracking down enemy fighters in hot-spots such as Afghanistan and Iraq, it's no surprise they suffer such debilitating trauma.
Just like human sufferers, dogs display a variety of different symptoms ranging from violent aggression to cowering and timidity, and many simply can't perform the roles that they were trained for.
"If the dog is trained to find improvised explosives and it looks like it's working, but isn't, it's not just the dog that's at risk," explained Dr. Burghardt. "This is a human health issue as well."
Some dogs are treated with anti-anxiety medications like Xanax to control panic attacks, while other rehabs focus on exercise and gentle obedience training.
Article continues below advertisement