One Day Old Rare White Lion Cubs Snuggle Up To Lioness At Serbian Zoo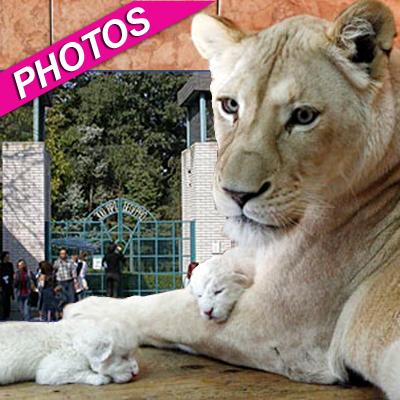 By Debbie Emery - Radar Reporter
Who wouldn't want to find one of these little cuties under their Christmas tree?
A litter of extremely rare white lion cubs made a special holiday outing with their lioness mother, Sumba, on Wednesday - and RadarOnline.com has photos of the adorable family fun!
Snuggling sleepily together, the bundles of fluff look more like lambs than lions with their snow white fur, but will soon grow into majestic kings and queens of the jungle like their mother.
Article continues below advertisement
The four cubs were recently born at the Belgrade Zoo in Serbia, and have quickly become a major part of the lion display as visitors have been eager to see the rare breed.
The zoo has 10 white lions and was acknowledged with a special award in 2009 for its professional care of the animals.
White lions result from a color mutation of the Kruger subspecies of lion in South Africa and they have been encouraged through selective breeding in zoos around the world because of their unique look.
There is now estimated to be around 300 across the globe, and the first pride of white lions was reintroduced to the wild in 2009.
Despite the popular assumption, the lions are not albinos and the color - which ranges from blonde to near white - is caused by a recessive gene called the chinchilla mutation.
RELATED STORIES:
Sick Puppy Sits Up Tall For Dinner In A Special Chair