No One Wants To Get On The Scales After The Holidays! Baby Elephant Fights Weigh In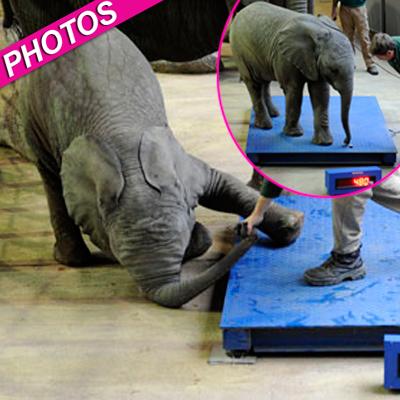 Of all the times to be scared to step on to a scale, right after the holidays is the most daunting, and RadarOnline.com has photos to prove it!
And for baby elephants it seems they have the same concerns, as shown by adorable calf Uli who did everything in her power to not get weighed and kicked and screamed the whole way.
It is unknown if Uli was worried that her sneaky Holiday season peanut indulgence would show up on the freight size machine, but she seemed determined not to have her "number" read – especially in a room full of men.
Article continues below advertisement
Uli pushed her face onto the ground and put on a real struggle as the keeper tried to pull her by her trunk and used all of her might not to have to get on that scale.
The battle occurred at Wuppertal Zoo in Germany where some 5000 animals were counted, measured and weighed today as part of the annual inventory.
We understand Uli's pain. But seeing as she finally weighed in at 1056lbs (480kg) – we don't feel so bad about ourselves. The poor calf looked miserable as her weight was finally read.